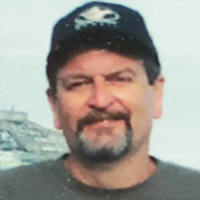 Steven Jordan
Steven Jordan
Be a thinker and not a stinker; hard to soar like an eagle when you hang out with turkeys. Just some of Steve's fatherly words of wisdom. No secret that he loved barbecue; when the grill came out he did a happy dance. He loved concerts and got to take his kids to see the Steve Miller Band when they got old enough. When he was at Kingsway he was a dominant basketball player and never lost his love for the game; he and Jason spent many an hour shooting baskets. He rooted for all the Philly teams and went out of his way to get there early just to get face time with the players for his son; WIP was on non stop in his shed. And his daughter helped him with his football pools: he tolerated that she chose teams by their colors. They did many a daytrip to the Chesapeake for Crabbing and spent many an evening angling for blues. He'd try anything once: snorkeling, white water rafting, and cruises to just about anywhere. Of course his favorite cruise was Bermuda: even topped Hawaii.
He'd meet a pretty waitress at Uncle Bill's restaurant: he and Laura shared an 18 year marriage. He was blessed by children: Jennifer (C.J.) Reynolds and Jason (Nicole); and was survived by his mother, Ruth Jordan, his sister, Barbara Ragonese and grandchildren, Jacinda and Jayla Jordan and Brody and Marley Reynolds and many nieces and nephews. He was pre-deceased by his father, William Jordan; his nephew, Gregory Ragonese and brother-in-law, Jim Ragonese.
Come celebrate 62 great years Saturday, July 13 from 10 a.m at New Beginnings Church, 401 Billings Ave, Paulsboro 08066 where there will be an 11 a.m. service.
Contributions to New Beginnings Church, 401 Billings Ave, Paulsboro 08066 will be appreciated.