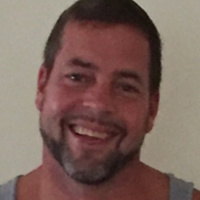 Ryan McCarthy Stump
Ryan McCarthy Stump
He never had a problem holding your attention: Ryan was a storyteller. The mundane became fascinating with a few embellishments. He could open the refrigerator, pull out some odds and ends and prep a great feast; those hours of watching the food channel didn't go to waste. Of course, American Pickers and the History channel also peeked his curiosity. He was known as a hard worker with Union #669 and was a jack of all trades–he could do carpentry, paint and fix most anything; he was teaching his kids to do likewise. And he was also teaching them to shoot fouls shots and throw a spiral. Their favorite daddy thing to do was to snuggle 'til they fell asleep. But it didn't stop there: he also found joy producing home made raps with his wife complete with couch snuggling.
Ryan was high school friends with the pretty Nichole McCracken, but it was many years later that love blossomed. Nichole had surgery and unable to do much. Ryan kept her company and it was on the "ugly green couch" that they become serious. They were blessed with a son, Cole and Daughter, Kayla. Ryan is survived by his father, Edward Stump, his brother, Reuben (Yamaris Pacheco) and his sister, Robin Corbin (Norville), his grandmother, Rose McCarthy and a large extended family. He was predeceased by his mother, Margaret Rose McCarthy.
Come celebrate 43 great years Saturday at Daley Life Celebration Studio, Swedesboro, NJ from 9 am with the service at 11 am.