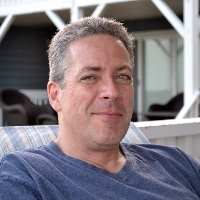 Louis Shultz
Louis Shultz
Today we celebrate the life and legacy of Louis Shultz. Lou was born in Milwaukee, raised in Spring Valley, NY, educated at Stony Brook and Syracuse Universities, and ultimately settled in Logan Township, NJ. He was an anchor for his family, co-workers, friends, and community.
Lou first met his college sweetheart Kathy, whom he called Katie, during their time at Stonybrook. Over the next 40 wonderful years, Lou and the pretty girl from across the hall built a life together and loved each other unwaveringly. Every night as he walked through the door, he would greet Kathy with a joyful, "Hi beautiful, I'm home!" Lou and Kathy were blessed with three children, Jessica (Michael) Alfaro, Robert (Christina Colucci) and William; and later by grandchildren, Hallie and Connor Louis. He is survived by his mother, Nancy Lindeman; his stepfather, Bill Lindeman; his sisters, Lisa Shultz and Julia (Daniel) Perez; and numerous beloved nieces and nephews.
Whether you met him once or knew him for years, you got the same Lou. His family would often joke that he couldn't finish a grocery run or walk the dog around the block without making a new friend. He had the heart of a lion and maintained a fiercely positive outlook, facing adversity with squared shoulders and a firm resolve. During his hospitalizations, Lou was seemingly less concerned with his health than the wellbeing of those around him. Throughout recovery, he would walk the floor of his unit, praying with other patients and helping them navigate their fears. From his hospital bed, he even helped a distressed hospital worker prepare for a final exam, and shared tears with her upon receiving her passing grade.
Lou was constant, dependable, and humble; for his extended family, "Uncle Lou" became a verb. To "Uncle Lou" something was to shoulder a problem and execute a solution, all while never seeking recognition for the act. Lou was a dedicated father and an example for his children and their friends, often mentoring those who sought guidance as adult life's challenges arose.
A true engineer at heart, Lou was meticulously organized. Even ideas for fun family activities were catalogued in an alphabetized folder dubbed "the fun file". He enjoyed a good drink from time to time; usually bourbon, although he'd make room for the occasional fruity concoction. He loved making wine with good friends. A food enthusiast, Lou never met a meal he didn't love. He seldom left the house in a t-shirt; everything matched down to his shoelaces. He mowed the lawn in a polo shirt and packed 10 pairs of sneakers for an overnight trip.
Lou's faith was extremely important to him. A lay leader at Bethesda Church, he called upon his natural leadership ability to better the congregation. He truly loved his church family. As a senior manager at Boeing in Ridley Park, Lou voraciously dug into his work and found his days there both challenging and fulfilling. He was known to identify helicopters strictly by sound and hustle his family outside at the drop of a hat if he heard something interesting passing overhead. He had a passion for cars, subscribed to Motor Trend and owned a black Dodge Challenger, which he joked had more horsepower than he had maturity.
Come celebrate 60 years of an exceptional life. Lou lived well and loved well. Calling hours will be held Friday, February 4th from 6-8 pm and Saturday, February 5th from 10-11 am at Daley Life Celebration Studio, 1518 Kings Highway in Swedesboro, NJ. The service will immediately follow. In lieu of flowers, the family requests donations be made to Lou's beloved Bethesda United Methodist Church, 1435 Kings Highway, Swedesboro NJ 08085.