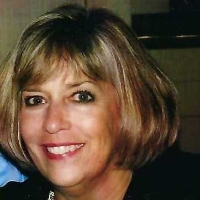 Leslie Ann Petillo
Leslie Ann Petillo
Leslie Ann Petillo (nee Scott) was born on July 16, 1954 to John Scott, Jr. and Jean Scott (nee Staley).
When Leslie arrived, the family lived in a small ranch home on Philmont Avenue in Huntington Valley, PA. The Scotts were deeply integrated into their neighborhood and the Huntington Valley Presbyterian Church community. John and Jean helped start a local swim club which gave all the new families an opportunity to connect with one another.
Several years later, Leslie got the chance to be a big sister when Alison was born. The girls had many playmates in the neighborhood. They also had their hands full with Beauregard J. Bugle Boy, a rambunctious beagle hound who had to be kept fenced in the backyard because he always wanted to run out into the woods around their home.
The Scotts soon realized that they were outgrowing their house and that the traffic on Philmont Avenue was getting too dangerous for two girls who loved to play outside. They found a lot for sale and built their new home on Edencroft Road just in time to welcome another daughter and sister, Wendy.
The family kept busy with school and church, and stayed active in their neighborhood. Leslie and her sisters learned to swim at the Valley Swim Club (the club her parents helped create), and her fondness for swimming inspired her to become a lifeguard during the summer months. It was around this time that they all began to vacation in Ocean City, NJ, a place that Leslie would come to treasure for the rest of her life. The family went on trips to the zoo, the 1964 New York World's Fair and summer vacations to the Statue of Liberty, Niagara Falls and of course, the shore.
Through the encouragement of her father (an engineer), Leslie learned to explore the beauty of nature that surrounded the Scott family home, climbing trees and learning to identify the bountiful wildlife of birds and insects that populated the wooded area near a small creek close by the house. Leslie appreciated simple things and quiet moments.
In August 1970, Leslie's father had a work trip to Japan, and the rest of the family met him in Hawaii on his way home for a vacation. Leslie filled a small jar with sand from the gorgeous Hawaiian beaches to bring back with her, which she kept on a shelf at home. It was mementos like these that were most special to her.
Leslie graduated from Lower Moreland High School and entered nursing school at Woman's Medical College of Pennsylvania in 1972. She learned to apply her scientific curiosity fostered by her father to help others heal and recover from injuries and sickness. She graduated in 1975 and started nursing as a career. She worked diligently to help her patients receive the best care possible, cultivating a bedside manner of comfort and compassion.
Leslie met Anthony Petillo at a college party in Philadelphia in 1975. When an aspiring young Anthony asked her for her phone number, she was ready with her own notepad and pencil (she was always prepared for pretty much anything at any given time).
Leslie and Anthony became engaged in July 1976, and they were married on October 8, 1977. The couple worked hard at their respective jobs and saved money in order to purchase their first home in Northeast Philadelphia in March 1977.
Their first son, Michael, was born in 1980. The family bought a brand-new house in Langhorne, in Bucks County, PA. In 1986, their second son Richard was born. Their neighborhood had a swimming pool where she loved to take Mike and Rich for swimming lessons and spend time with other families and their children. The community also had ponds (full of geese, fish and the occasional snapping turtle) where the whole family would enjoy visiting. The new house was in a cul-de-sac, which was perfect for learning how to ride bikes and play Wiffle ball. Leslie would often be the first mom on the block to run outside to hand out a band-aid to cover a skinned knee or a cold drink and snack to the neighborhood kids. Leslie loved when their street threw block parties during the summer months and would be one of the last people to leave any social gathering, making sure that everyone had a good time, and also ensuring that everything was cleaned up properly. Leslie loved to host family gatherings and holiday parties at the Petillo home. She understood the critical importance of celebrating "the good times." Leslie created a home that wasn't just a home for her family, but was a refuge for neighbors to congregate and a place where her sons' friends were always welcome to play. She reveled in being supportive of others and providing an inviting presence to all.
In 1984 Leslie's parents bought a house on Bay Avenue in Ocean City. This house was certainly one of Leslie's "happy places." She loved being only a few blocks away from the ocean and beach and watching her sons and their cousins play outside together in the backyard. Leslie enjoyed spending time with her family on the boardwalk and taking them to her favorite "go-to" places to get pizza, ice cream and souvenirs. She'd tell stories of her childhood summers spent there and point out the places where she held her seasonal jobs when she was a teenager.
When her children were old enough to watch themselves after school, Leslie started a job in Bristol Township School District where she was a school nurse. Of course, even when she was working a busy job which entailed watching over other kids, she never disregarded her first commitment to being the best mother she could be to Mike and Rich. As a mom, she made sure her children explored anything they were interested in, including tolerating Mike and his band playing crashing loud punk music in the family basement and encouraging Rich's hobbies of baseball, golf, drama club and school mathletes. Leslie also loved traveling with her family throughout the U.S., including favorites destinations such as San Francisco, San Diego, and Disney World.
In addition to being a loving mom, Leslie remained close with her sisters, Alison and Wendy. They shared a deep and vital bond and leaned on each other through the tides of life. She loved all of her cousins, nieces, and nephews dearly.
When their two sons left for college and careers, Leslie and Anthony decided to downsize. Anthony was hired by a new company based in Swedesboro, NJ, so the two of them bought a home nearby. Leslie quickly became active in her new community of Four Seasons at Weatherby and naturally assumed a role as ambassador, helping new residents feel immediately at home. She became active on several committees tasked with beautifying streets and common areas and planned many social events at the community clubhouse, such as holiday parties, Karaoke nights, barbecues, and Philadelphia-themed parties featuring cheesesteaks, soft pretzels, Tasty Kakes and some of her favorite Philly soul music (Anthony, an avid music lover, often volunteered to be the D.J.).
As in her previous homes, Leslie connected with nature, setting up bird feeders around her house, and planting flowers and bushes in the community garden. She adored hummingbirds, appreciating their delicate yet energetic spirit, and would take videos of them to share with her sons and neighbors whenever the birds visited her at the feeder outside the kitchen window.
Leslie valued the following tenets: always be kind and respectful to other people (no matter who they are), always take responsibility for your actions, and be sure to care for others. She was a nearly bottomless well of comfort and empathy, someone that longtime close friends as well as a person she just recently met could rely on. She could sense what people needed – whether it was simple gestures like a phone call, mailing a card, or delivering a ready-made meal whenever a neighbor or family member was going through a tough time.
Leslie is survived by her husband, Anthony, her two sons Michael (Kaveri) and Richard (Alyssa) as well as her siblings Alison Beal (Wayne) and Wendy Flood (David). She was a compassionate sister-in-law to Denise Norris (William) and Joseph Petillo (Maureen). Leslie was also a loving aunt to nine nieces and nephews who she enjoyed spending time with at holiday gatherings and down the shore. She maintained close relationships with all of her extended Scott and Petillo relatives living across the country, because her family always came first.
Leslie's family invites you to celebrate her memory by embodying her kind and caring spirit and her tenacity to show up for others even when it is challenging. In lieu of flowers, donations can be made to one of Leslie's favorite charities, HEADstrong Foundation, 232 Green Ave. Holmes, PA 19043. A remembrance celebration of her life will be held on Friday, May 21 at 11AM at Lake Narraticon Swedesboro Park, 144 East Avenue, Swedesboro, NJ 08085. http://www.historicswedesboro.com/about/parks-recreation/swedesboro-lake-park/
"What we once enjoyed and deeply loved we can never lose, for all that we love deeply becomes part of us." – Helen Keller