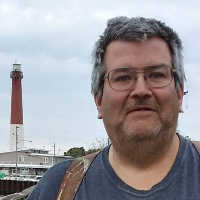 John R. Wetzel
John R. Wetzel
There were three things that could melt the big man's heart: cars, grandkids and, though he wouldn't readily admit it, animals. From his days in high school, he spent a lifetime turning a wrench, working everywhere from gas stations to dealerships to marinas to pep boys. He finished out his career as an L1 Master Technician. But more important than work was family time, especially his granddaughters: John was spoiler in chief. With his own kids he taught self-reliance: "Not my problem" he'd tell them as he encouraged them to do for themselves. But, it was just perhaps an outgrowth of his personality; John was always quick with a sarcastic comment that brought a smile to everyone's face. His home was the one where all the kids gathered; his kid's friends became John's kids as well; under his roof everyone was family. If his TV was on he'd probably be checking out some WWII movies; an homage to his father who fought for the Allies. If he got loose, John would most likely have a fishing rod in his hand or be off to the casinos.
He is survived by his wife, Robin; his children, John C. (Caitlin) and Kelly (Angelo); son-in-law Christopher Calvert; grandchildren, Emily and Cassandra; his mother, Catherine and siblings, Charles, William (Virginia), Kathryn Culp, Benjamin (Jacqueline) and Christine. He was pre-deceased by his father, William.
Come celebrate 54 great years Friday 10-noon at Daley Life Celebration Studio, Swedesboro where there will be a noon service. Interment private.