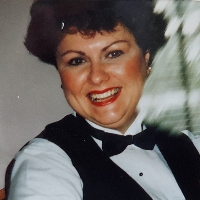 JoAnn Kinney
JoAnn Kinney
JoAnn a beautiful child and woman came into this world on November 2, 1952, the first born child of Allen and Sally Kinney. Her beauty and radiant smile carried her through life. She is survived by her sister Linda, brother-in-law Sal and their 2 children Michelle and Sal. Also her brother Michael and his 2 sons David and Patrick. Coming from a large family she is also survived by many cousins, Aunts and Uncles.
JoAnn was creative in every aspect of the word from her artistic abilities to her vast culinary skills managing bakeries in several super markets, baking desserts for the Pub and for a period of time owning her own catering business.
She learned from the best—her Irish Nana and her Italian Nana.
JoAnn grew up loving animals having several dogs (purebreds only) and caring for horses down the road from her home. In recent years she discovered her love for cats taking in Bob and Leo.
Thinking of JoAnn's time on earth she made many people laugh with her quick wit and candid ability to help friends and family in need.
She will be missed by many but will be remembered for her time on earth. Rest in peace.
Come celebrate 68 great years Monday Sept. 27 9-10:30 a.m. at Daley Life Celebration Studio, Swedesboro. Mass of Christian Burial will be celebrated 11 a.m. at St. Clare of Assisi Parish, St. Joseph Church, Swedesboro. Interment St. Joseph Cemetery.