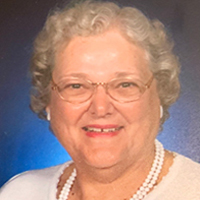 Jane Pidgeon Kimball
Jane Pidgeon Kimball
Jane lived on her family's farmland which they occupied for three generations. She was a lifelong and active member of Bethesda UM Church and the JEMS Class. Both Lore Heating and Chesney Insurance benefited from her office abilities until she retired in 1988. After that she gave most of her time to her community: the volunteer job she loved most was reading to kindergarten students at Clifford school. She always wore a smile and never gossiped or spoke ill of another. And Jane was known to work wonders behind the stove: she and her late husband, Charles baked Christmas cookies to give to friends, family and shut ins. One year the tally was 8000 cookies.
Of course, not every cookie was given away: sons Charles IV and Larry were known to dip into the cookie jar. In addition to her sons she is survived by 6 grandchildren and 12 great grandchildren.
Come celebrate 92 great years Saturday, July 27 from 10 am at Daley Life Celebration Studio, Swedesboro where there will be a service at 11:30 am
Donations to Ranch Hope, PO Box 325, Alloway, NJ 08001 will be appreciated.