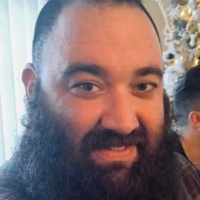 Jacob Boody
Jacob Boody
He was a man of gargantuan proportions; Jake looked like a Viking who'd come down from Valhalla. Some mistook the serious look on his face as being angry, though nothing could be further from the truth, well, a majority of the time anyway. Much more likely, he was thinking of some way to help you out; he had a heart of gold. And despite his size and stern appearance he was an unabashed mama's boy and dedicated to his family, a huge teddy bear. He had a lifelong love of music, mostly metal, and could hop on just about any instrument including the infamous guitars and drums. He looked like a true rock star covered in tats, their meanings sundry and random, right along with an endless supply of band and concert shirts.
He loved animals and they knew it; four legged creatures of all sorts gravitated to him, and his pets ranged from a bird and dogs to mice and lizards, there wasn't a time where he wasn't talking about a new pet he has his eyes on.
In his spare time, he loved to read books like Star Wars and learn about the stuff that most people would ignore like the vikings and the wide range of spiritual beliefs. He enjoyed more than a few wrestling matches with his father and brother, though they required a few weeks to recover. He met the love of his life, Emily Licciardello, who he hasn't said a single bad word about, unless of course it was how he doesn't understand how such a small woman can take up so much room in the bed.
He was a wiz behind a stove, and enjoyed feeding the people he loved. He worked as a cook and in the food service industry most of his life. Recently he segued into trucking driving for Nelly Logistics which he seemed to love aside from the real early mornings.
He is survived by his parents, Joe and Elise Boody; his brother, Jayson; his grandparents, Frank and Dale Barr, Joe Boody Sr, and Mary Schmidt; and his girlfriend, Emily Licciardello.
Come celebrate 29 great years Monday, March 28, 10 a.m. to noon at Daley Life Celebration Studio, 1518 Kings Highway, Swedesboro where there will be a noon service.