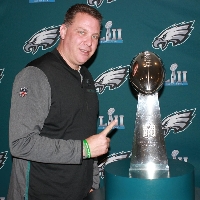 Gregory Beckett
Gregory Beckett
From August 5, 1976, until January 19, 2023, Gregory Scott Beckett lived life to the fullest.
Greg was born and raised in Bridgeport, New Jersey by his parents, Dorothy and David Beckett, Sr. He graduated from Kingsway Regional High School, where he was a proud member of the Dragons soccer team, track team, and of course, a Mr. Kingsway contender. Greg went on to earn a degree in Journalism from West Virginia University, where he also earned the title of most passionate Mountaineer to ever live.
Along his journeys through New Jersey, West Virginia, and Delaware, Greg collected friends as if they were baseball cards; to list them all by name, could fill a phonebook. These packs of friends were bound together by a singular glue – the love, generosity, sense of humor, care, and compassion of their friend Greg. From the Kingsway boys to the Mountie Men, the March Madness maniacs, to the Eagles gang, and whole swaths more, there was not a single better friend in any of these groups than Greg. These friendships accompanied him to Eagles games (where he's worn the same exact outfit, in his exact same exact seat, for decades), to West Virginia football and basketball games, and to the annual NCAA basketball tournament trip. Greg's love of music was as wide and varied as his friend groups; from the Smashing Pumpkins and DMX to the Foo Fighters, John Denver, Wu-Tang, Biggie & Pac, Coldplay, Jonny Cash, Pearl Jam, and some obscure superband that no one has ever heard of, Greg's playlists might give you whiplash. But the tunes were always spot-on, and his collection of concert t-shirts and ticket stubs could fill racks.
Above all of these friends though, is his best girl Lexi Lou – the most spoiled dog in South Jersey, who never repeated an outfit, was treated to her nightly dogster ice cream treats, and traveled exclusively on his lap in the front seat or by being carried like the princess she is. Greg regularly sent treats, gift cards, snacks, and sandwiches to Lexi's daycare facility as a thank you to the staff who cared for her – talk about a lucky pup.
Greg is survived by his parents Dot and David – for whom he would do anything. Greg inherited his mother's impeccable sense of style and was always dressed and pressed, with never a single hair out of place. From his father, he inherited beautiful eyes, incredible work ethic, and some serious dance moves. He would do anything for his family, but especially his mom and dad – even through his loving teases and nicknames.
Greg is also survived by his older brother, Dave (Marie). As his first best friend, and eight years his senior, Dave was happy to teach Greg many life lessons – some that could have probably waited a few years. Dave didn't miss a single moment of Greg's life, from micro soccer games to the Kingsway Varsity field, he was there beaming with pride at his baby brother. Their bond only grew stronger as men, into their shared passion for Philadelphia sports, tailgating, quoting movies, cracking endless inside jokes, and bringing each other to tears of laughter. The best gift Dave ever gave to Greg was his niece Kelsey (20) and Kyle (16) – the pride and joy of Greg's life. You will be hard-pressed to find a better uncle, and if you do, he better be wearing a Barney costume in 100 degree weather like he did for his Kelsey's birthday party! He didn't miss a dance recital or Nutcracker performance when she graced the stage, and he was most proud of her current success as a sophomore at the College of Charleston, where he recently visited her. Then there is his "jabroni" Kyle – who has quickly morphed from his sweet baby nephew to "one of the boys." From sharing texts about all manners of sports, soccer plays, music playlists, and the newest Nike kicks, the friendship and bond they have forged will never be broken. Greg was ecstatic to watch his Kyle don a Dragons jersey as a member of the Kingsway soccer team and was tracking stats and sharing Kyle's accomplishments with anyone who would listen.
Greg struck gold more than a year ago, when he met a love worth waiting for – his partner in life, love, and fun, Giovanna. Being matched up by close friends, the spark was more like a firecracker and the love was so strong it was felt by anyone who shard a room with them. Greg and Giovanna brought two amazing extended families together in the Becketts and the Muracas, but perhaps most importantly, forming a beautiful family together with Brianna (11) and Giuliana (8). Brianna, Giuliana, and Lexi quickly became inseparable sisters, and together Greg and Giovanna were truly building la dolce vita together in their home in Gibbstown, NJ. Bonded by their mutual love of music, concerts, entertaining and hosting friends and family, and enjoying life, they have managed to fit a lifetime of love into their time together.
Country roads have taken him home, but he will live on in our hearts for all time.
Visitation will be held on Thursday January 26, 2023, from 10 a.m. to noon, followed by a brief memorial service at 12:00 pm at the Bridgeport Firehall, 4 Steelman Ave, Bridgeport NJ 08014.
Friends may consider a donation in his name to support the Kingsway Dragons Soccer team by mailing a donation in his memory to: Kingsway Goal Club, 2 Intrepid Drive, Sewell, NJ 08080 or for additional payment options, may inquire via email to: KGCsoccer@hotmail.com