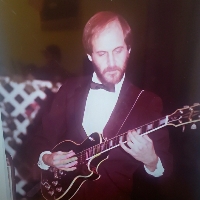 Donald Zane
Donald Zane
He was a brilliant and passionate musician: Don sang, played guitar, drums and just about any other instrument. He travelled all around the country playing in several bands, most recently Plan B. Of course, he was a born entertainer, regaling everyone with stories from yesteryear. Many of his tales had to do with his hometown of Swedesboro. He knew the history of every house and had a story about every corner. He'd been born at Mahaffey's on one side of the lake and lived most of his life on Lakeview Ave. on the other side. When he was missing there wasn't any reason to go looking for him: he'd be out on the lake in his Kayak, relaxing and exploring. If his T.V was on Don would be checking out some Sci Fi movies, watching the Stooges or checking up on Oak Island.  He found his real calling late in life when he became a grandfather.  Only the best Dads get promoted to PopPop.  Earlier years found him working as a boiler mechanic at the casinos.
Don met a pretty lady named Elizabeth at work. They'd spend 23 years together and be married for 18. He is survived by his children, Todd (Angela) Zane, Ed (Jessica) Rodriguez, Wendy (Jason Santiago) Rivera and Dali Rivera; 8 grandchildren and 3 great grandchildren.
Come celebrate 70 great years Wednesday 9-11 a.m. at Daley Life Celebration Studio, Swedesboro where there will be an 11 a.m. service. Interment Eglington Cemetery.