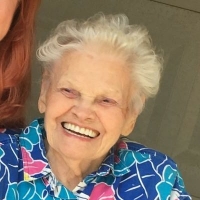 Anastasia Hutnyk
Anastasia Hutnyk
Things were bad in the Ukraine and in 1957 she was sponsored into these United States. Anastasia loved the freedoms our nation provided; she never looked back. She arrived with her husband, Mykola, two sons and a daughter. She learned English watching T.V. Of course, her favorite shows were wrestling, roller derby, Three Stooges, All in the Family and The Jeffersons. She loved professional wrestling so much she even went to live matches at the Philadelphia Arena. She and her late husband worked hard to make ends meet; he worked everywhere from a slaughterhouse to house painting; Anastasia worked cleaning offices in Philadelphia. She made potato and sour kraut perogies; unfortunately, the recipe died with Anastasia. Retirement found here going to the casinos 4 times a week: she'd spend the 10 dollars the bus company gave her on the slots.
Anastasia is survived by her children: Bob, Peter, Diane Geisler and Stephanie Foley; 5 grandchildren and three great-grandchildren.
Family will celebrate 102 great years at a private graveside service at Lake Park Cemetery.