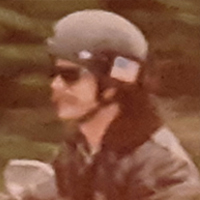 Alfred "Darrell" Davis
Alfred "Darrell" Davis
Get your motor running, head out on the highway. Darrell believed that four wheels move the body; two wheels move the soul. From his youth he'd often be seen out tearing up the countryside on his dirtbike with his lifelong buddies, John Gangemi and the late Ben Coco. And his later years found him cruising on his Harley. A stray cat could do no better than to find his way to Darrell's doorstep. And you never laughed as much as when he was around. When Dale Earnhardt Sr. was on the track he'd definitely be watching, but lost interest after his death. And he was a master plumber, plying his trade with Collins Patrick Mechanical. Even his days off found him daydreaming about possible solutions to plumbing issues.
One day he popped into the Woodstown Hotel to grab a cold one. There he'd meet his fiancé, the lovely Barbara Shockley; they'd share a 20-year romance. He is survived by his siblings, Donald, Margaret Strumpler, Larry, Charles and many nieces and nephews.
Come celebrate 59 great years Thursday , July 18, 2019 noon til 1 p.m. at Daley Life Celebration Studio, 1518 Kings Highway, Swedesboro where there will be a 1 p.m. service. Interment Mullica Hill Baptist Cemetery.