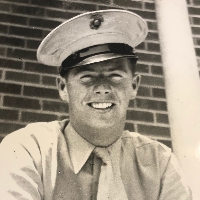 William Murray Sr
William Murray Sr
Everyone knew his lifelong priority was his family. Bill was widowed as a young man and worked to keep his family intact, cared for, and loved. He spent many a long hour managing area record stores making him the "cool" dad in the neighborhood. He knew the hot songs, singers, and albums and his kids had the first crack at the newest records topping the charts. He didn't mind the long hours and he was introduced to many an up-and-coming artist looking to promote their careers. Bill was raised in the Swampoodle section of Philadelphia; home of Shibe Park (Connie Mack Stadium) and was a graduate of Jules E. Mastbaum Area Vocational School where he studied woodworking. He used his skills mostly in his retirement building sundry items for family and friends. When people walked into a room and said I love that piece, it was most likely one of his creations. His skills also came in handy when he would build some of the best Pine Box Derby Cars. Of course, he found his real calling later in life: that of a grandfather. He was a built-in babysitter and spoiler in chief. "I'm not here to discipline", he'd say, "just to have fun." And the grands loved Pop; seldom more than an inch from his side, usually curled up with him on the floor. As a young man he enlisted in the Marines; one of the "greatest generation" who saved the world. He joked that he stayed alive by running from the gunshots. His record and military citations tell a different story: graduate of the sharpshooter school at Camp Lejeune, protecting high ranking officers. He saw five landings in the Pacific: Kwajalein, Saipan, Tinian, Enewetak, and Iwo Jima where he witnessed the raising of the stars and stripes. Until recently he was still meeting regularly with the surviving members of the 4th Marine Division. The secret to living to 98 is swimming. He was proud to say that the YMCA gave him a free membership at 90.
Bill met a pretty girl, the late Gertrude (Meade), at a party and had a fortuitous turn in a game of spin the bottle. They'd spend the next few years seeing each other at local dances; she always saved the last dance for him. Their marriage was blessed with three children, Frances (Michael) Fay, William Jr. (Maria), and Fr. Robert J. Murray, O.S.A.; and he was later blessed with 3 grandchildren, Michael (Joanna), Liam (Ashlee), and Chrissie and 5 great-granddaughters, Alex, Adi, Stassi, Joee and Penny and there are twin great-granddaughters on the way.
Come celebrate 98 great years of Pop's life 9:30 to 11:00 a.m. Tuesday, August 31st at St.Clare of Assisi Parish, St. Michael's Church, Gibbstown, NJ. Mass of Christian Burial will follow at 11 a.m. Facemasks are requested for the safety of all. Interment Holy Sepulchre Cemetery, Cheltenham PA. In lieu of flowers, the Murray Family requests that donations be made in memory of William J. Murray Sr. to the Augustinian Fund, Care of the Sick and Elderly, 214 Ashwood Road, Villanova, PA 19085.