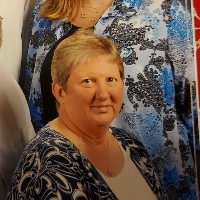 Wendy Beckett
Wendy Beckett
If Woolwich Township or Swedesboro had a need, Wendy was always there to fill it. She ran the annual Swedesboro Christmas Parade, was the Vice President of the Greater Swedesboro Business Assoc., and headed the Kings Things Holiday Food Drive. This is just to name a few of the million things she was involved in. Of course, her dedication to her family was no different: she coached soccer, basketball, softball and was active with both the Boy Scouts and the Girl Scouts. Wendy loved sharing her talents in arts and crafts through her programs at Seaville Shores Campground and Pine Haven Campground as well as with her grandkids. She spent over 30 years doing the books at Swedesboro True Value. When her kids were born, she had them right next to her desk in a playpen. When she was injured on another job, she worked from home to make sure everything continued to run smoothly. Also, she worked as a crossing guard for the Woolwich Police Department for the past 18 years and her earlier years found her driving a bus for Walt's Bus Service. She was a lifetime member of Bethesda United Methodist Church.
She'd meet a handsome guy named Dean who was a year ahead of her at Kingsway. The high school sweethearts married and shared a 41 year marriage blessed by children, Cliff (Stephanie) of Logan Twp, Jennifer (Keith) of Woolwich Twp and Brett (Presley) of Woolwich Twp and grandchildren, Chloe, Colin, and Kaylynn. She is survived by her mother, Evelyn Winter; of Woolwich Twp and her sisters, Dr. Donna (Russ) Coco of Staley, NC and Brenda (David) Buechler of Woolwich Twp. She was pre-deceased by her father, Willard and her brother, Wayne.
Come celebrate 62 great years Wednesday 6-8 p.m. at Daley Life Celebration Studio, Swedesboro. Donations in lieu of flowers to Greater Swedesboro Business Assoc., P.O. Box 235, Swedesboro 08085 or Woolwich Fire Company 1517 Kings Highway, Swedesboro will be appreciated. A portion of the donations to the Greater Swedesboro Business Association will go towards the Wayne Winter Scholarship in honor of her late brother.