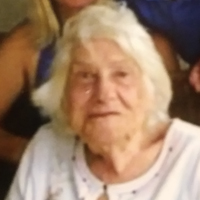 Violet Risley
Violet Risley
Violet loved catching up with her friends on The Young and the Restless, especially Victor.  For many years she and her husband would pack up their R.V and head off for Florida.  Of course with their R.V they also met a group of close friends who traveled together for 30 years.  And she battled the slots in Atlantic City: won a few times and  left a few dollars behind for the most part; but she loved it just the same.  At home she enjoyed caring for her vegetable and flower gardens, keeping them just so.  
She was raised in Camden on Fogarty Street, believed to be the shortest and narrowest city street in America. But living on that street was a handsome guy, the late Milton.  His brother would fix them up and they would share over 50 years of marriage blessed by children: Milton Jr. (Kathy) and Linda Sadusky (Bob); 6 grandchildren and 7 great-grandchildren. 
Come celebrate 91 great years Friday, December 20th, 10-11:30 a.m. at Daley Life Celebration Studio, Swedesboro where there will be an 11:30 a.m. service.  Interment Eglington Cemetery.