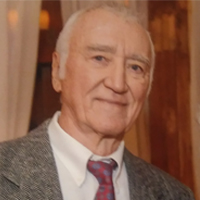 Victor Boyko
Victor Boyko
Victor Boyko, of Swedesboro, NJ passed away peacefully at Manor Care nursing home on January 19, 2020.  Born in Ukraine, his family fled multiple times during WWII escaping both German and Soviet forces.  Eventually they ended up in Munich, but these were difficult times and food was scarce.  In order to survive, he sold cigarettes, coffee, chocolate and whiskey given to him by American soldiers.  In December 1952, Victor came to the United States, sponsored by his own mother.  He was drafted in the Army in late 1953, became a citizen in November of 1954, and served until October 1955 when he was honorably discharged. 
He attended the University of Pennsylvania on the GI Bill, but his love of aviation lured him out west.  In California, he worked for GE and was a flight instructor.  By 1966 he was still pursuing aviation and attended flight school at the Ag Aviation Academy in Minden, Nevada.  Eventually he returned to the Philadelphia area where he worked in various engineering jobs for Boeing, Lockheed, and RCA until he retired from the Naval Surface Warfare Center as a Marine Equipment Specialist. 
Fluent in four languages:  Ukrainian, Russian, German and English, he loved wide, open fields and the sound of big band music.  He owned two RVs and used them to travel to airshows.   Married to Mary for 42 years, he has two daughters, Natalie Deutsch and husband Michael; Stefanie Deery and husband CJ; grandchildren Mikey and Rosalie.
Come celebrate 87 great years Friday, January 24 from 10:00 AM to 11:30 AM at Daley Life Celebration Studio, Swedesboro.  Donations in lieu of flowers to the American Cancer Society (cancer.org) are appreciated.