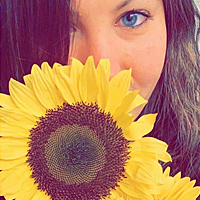 Sarah Cline
Sarah Cline
She loved to do things for others, especially her friends and family. Sarah always seemed to be the glue holding everything together. If there was a need she would jump in to fill it: volunteering was just part of her being.  She was a great sister though she tortured Stephen to toughen him up a bit: Sarah once made him a mohawk using Elmer's glue.  In their later years they were partners in crime: masters of the coverup.   
She loved to travel and had been as far as California, Tennessee and Texas, but her favorite way to see the world was to jump in a car with Eric with no particular plans, meander down some country roads and see what developed.  Sarah was a noted perfectionist which came in handy in her work at F.I.S. Global in Deptford.
She'd meet a handsome guy named Eric while supporting a friend during a hospital stay.  First date was to the movies; terrific date, awful movie. It wasn't long until they were inseparable: if you saw Sarah, Eric would be by her side. They'd share an almost 7 year marriage blessed by three German Shepherd's: Abby, Max and Bailey who sure considered her children. Sarah is survived by her parents Stephen Rohrer and Kelly Rohrer, her brother Stephen; her grandparents, Ralph Cunningham and Charles Rohrer; her aunts and uncles, Kim Minguez (Gary), Ralph Cunningham (Nicole), Jody Cunningham-Bradway, Judy Rohrer, Brenda Rohrer and Chaz Rohrer.  And a host of cousins who she liked to torture.  Sarah didn't have in laws, just a bigger family: Kim Speakman (Angie) and Buddy Thomas (Kelly) became her siblings.  She was pre-deceased by her aunt, Jeannet Rohrer, and her grandmothers, Beverly Cunningham and Peggy Rohrer.
Come celebrate 29 great years Saturday, January 18th, 10-noon at Daley Life Celebration Studio, Swedesboro where there will be a noon service.  Donation is lieu of flowers to Salem County Humane Society will be appreciated, to help continue Sarah's love for animals.
A wake will follow services until 6 pm at the Sakima country club in Carney's Point, NJ