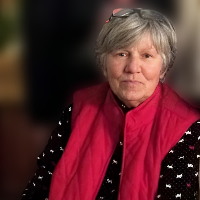 Sandra McAdams (Sandy)
Sandra McAdams (Sandy)
December 18, 1943 – March 21, 2023
Born and raised in Delaware County, Sandy moved with her late husband Francis (Frank) in 1981 to Washington Township. Sandy was selfless and spent her lifetime always placing others before herself. She was revered by her family, friends, neighbors, and anyone who was in her presence for her kindness. In addition to the love she showed her family and friends, she helped countless nonprofit organizations/churches with donations for children, veterans, and mothers.
Any loved one who suffered a hardship, Sandy was the first person at their door with a wonderful treat – cookies, Jewish apple cake, or a full course meal to enjoy before the "goodies." Everyone who was touched by Sandy felt loved and supported in a way words could never describe.
Sandy had many friends over her lifetime. Early on, the "Casa Nova" group of friends sprouted from a group of women in their teenage years working for the Philadelphia Inquirer who remained friends for their lifetime. Over the course of their friendship, all their husbands became friends. That is a bond that all women desire but may not achieve. They made memories from teenagers to now and enjoyed reminiscing over the years.
Just a little later in life, Sandy enjoyed the company of another group of women – "Knights of Columbus Wives/Card Club." This friendship was a family friendship with many weekends, holidays, and vacations of memories, not only for the adults, but also for their children. This group of women still gathers together one Thursday a month to play cards. Having dealt every card game except craps in the Casinos for over twenty years, Sandy took the game seriously – she always played to win and never liked a cheater. Her energy and spirit during those days will be missed.
Sandy was a neighbor like no other. All the kids in the neighborhood, her granddaughter's friends, her daughters, and anyone who liked candy would refer to Sandy as the "Candy Lady." Always having a sweet tooth herself (she kept chocolate at her bedside), she made sure to have candy jars filled with candy for whoever entered her home. This was a simple thing for Sandy because simple was her subtlety. She was simply the kindest woman who walked the earth to those who knew her.
Sandy's last group of friendship blossomed from women whom she met from the SJ Quilters Guild, Divas Quilting Guild and Best Friends Quilting Club. Like Sandy, these women were amazing and formed a sisterhood bond. Together these women made an impact in the lives of others. Their efforts resulted in the donation of quilts, pillowcases, life essentials, and care packages overseas. Sandy's friendship will be missed at their bi-annual retreats. These retreats were much like Vegas – "what happens in Lancaster stays in Lancaster."
Sandy had a love for home remodeling. HGTV would inspire her to take on "new projects." She renovated her home countless times over the course of her lifetime from ripping up floors, refinishing cabinets, to re-sanding furniture she found at yard and estate sales.
Being the tough warrior she was, Sandy battled and defeated cancer twice. Sandy was amazing at everything she did including her decision it was time to rest on March 21, 2023. The lives she touched will never be the same, but we all know with confidence she is at peace.
Sandy is survived by three daughters: Jennifer Johnson, Kate Nichols, and Meghan Peters. She also received the sons she always wanted; Wayne Nichols and Charles (Chuck) Peters who have been happily married and part of the McAdams family for 23 years. Sandy also had four grandchildren; Taime Peters, Jacob Nichols, Sophia Johnson, and Simone Johnson all of whom were her reasons to live since they were born. Additionally, she is survived by her siblings: Sue, Rob, Michael and Gene.
Come celebrate 79 great years on Saturday, April 1, 2023 from 10 a.m. to noon at Daley Life Celebration Studio, Swedesboro where there will be a noon service. Donations in lieu of flowers to Samaritan Hospice (samaritannj.org) will be appreciated.