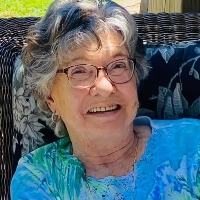 Sally Williamson Fordyce Hoff
Sally Williamson Fordyce Hoff
Sally Williamson Fordyce Hoff, age 89, was welcomed into the arms of our Lord on November 1, 2021.
Sally spent her early years in Morris County, growing up in Morristown. She began to pursue a degree in teaching Home Economics at University of Delaware before marrying Jack Fordyce and using those skills at home, raising three children. While Jack was busy running Jake's Auto Electric & Trailer Sales in Dover, Sally became a fixture in Denville as a long-time bus driver for the school system.
Sally created a warm, family-centered home. She was an active member of the Union Hill & Rockaway Presbyterian Churches. She was an organizer, taking on leadership roles in many ways: apple pie festivals, Boy/Girl Scouts, band boosters, party planning; she always jumped right in.
After Jack lost his 7-year battle with Alzheimer's in 1990, Sally continued being active, playing bridge, bowling and square dancing. She soon met square dance caller and bowler, Wilson Hoff. They married and lived happily in Annandale, NJ for fourteen years until Wilson's passing in 2008. Sally then moved to Glen Gardner where she was an active member of the Lower Valley Presbyterian Church and later at the First Presbyterian Church of Washington, NJ.
Like many, COVID-19 took a toll on Sally's spirits when she became isolated from friends and church. She spent her final year living in Mullica Hill, at the home of her daughter, Carol & son-in-law, Tom, where she died peacefully of complications from cancer.
Sally is survived by her son, Bob and Cindy Fordyce (Boonton Twp), daughter, Carol and Tom Brozosky (Mullica Hill), daughter, Judy Okamoto (North Carolina), grandchildren, Rick, Valerie, Kimberly, Henry, Raymond, Clarion and Brianna, and great grandchildren, Eva, Roslyn, Faye, Zoe, CJ, Tommy, Cohen, Delilah, Catherine and Anna, who will all miss their Mimi's kindness, love, and sense of humor.
A viewing will be held Friday, November 5 from 5 to 7 p.m. at Daley Life Celebration Studio in Swedesboro. There will a second viewing at Richwood United Methodist Church November 6, 2-3pm, followed by the church service. Interment will be at Locust Hill Cemetery, 168 North Sussex St, Dover, NJ, November 8, 11 AM. In lieu of flowers, memorial gifts may be sent to the Richwood United Methodist Church Mission Fund, 104 Richwood Road, Mullica Hill, NJ 08062.