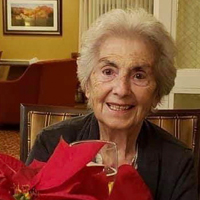 Sally Kinney
Sally Kinney
Sally Kinney (nee Musumeci) of Mt. Laurel, NJ, passed away on Sunday, July 5, 2020, at the age of 94.  Sally was the devoted wife of the late Allen Kinney.  She is survived by her children JoAnn Kinney, Linda (Salvatore) Clemente, and Michael (Carla) Kinney, grandchildren Michelle Clemente, Salvatore Clemente III, David Kinney, and Patrick Kinney, and siblings Alfio Musumeci, Joseph Musumeci, and Rosemarie Leone.  She was predeceased by her parents Alfio and Josephine Musumeci, brothers Salvatore, Angelo, and Vincent, and great-grandson Lucas Angelo Clemente.  
Sally was born on June 3, 1926, and grew up in Swedesboro, NJ.  Her hometown would be the same town that she met her husband, Allen Kinney, in a diner.  Allen stated "that is the woman I am going to marry" the day they met.  After they wed, Sally and Allen moved to Pennsauken, NJ, where they raised their children.  Sally was famous for her raspberry and chocolate pudding pies that were a staple at every family event.  She was also well known for her contagious smile, spunky attitude, and always having her trusty map with her.
In lieu of flowers, donations to St. Jude's (Stjude.org) would be much appreciated.
Come celebrate the life of Sally Kinney Saturday from 8:30 a.m. to 9:45 a.m. at Daley Life Celebration Studio.  Mass of Christian burial will be held at St. Clare of Assisi Parish (Swedesboro, NJ) at 10:00 a.m., where masks and social distancing will be required.