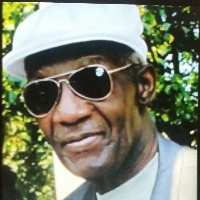 Ronald James Simmons
Ronald James Simmons
Ronald James Simmons was born June 2, 1951 to the late Andrew Simmons and Daisy Mae Ellerbee Simmons in Philadelphia, Pennsylvania.   He was raised in a home filled with love, faith, and devotion to family, with his older siblings Emma, Vivian, Laura, Gregory, and younger sister Charmaine.
He attended the schools in the Philadelphia Public School District, and graduated from Benjamin Franklin High School in 1970.  That same year, his first child Carmella was born.  Determined to learn skills to provide for himself and his daughter, he enlisted in the United State Marine Corps.
He toured for two years and was stationed in Vietnam; Okinawa, Japan, and the Philippines.   He was proud of his service and being a Marine.  He received a National Service Defense Medal, as well as a Vietnam Service Medal,  and was honorably discharged in 1972 as a Lance Corporal.  He continued military service in the Army National Reserves until being injured in 1981.
In 1973, he married Anita Adams and a daughter RaVonne was born in 1974.  Ronald worked for the City of Philadelphia, and ultimately the United State Post Office, but RJ, as he loved to call himself, was always ambitious.   He studied to become a general contractor and proudly worked on his own for years, hiring other veterans and friends who needed work was well.
Ronald later married Vivian Brown in 1984, and four more children were born:  Rahaman, Valentina, Ronald Jr, and Rhonda.  He also raised Vivian's other children as his own, with a military style of fair, but firm.  He taught all of his children to work hard, be independent, and always cherish family.
RJ retired from the Post Office as an engineer, but continued to oversee contracting jobs.   On February 1, 2013 he married Sara Renee Johnson.
RJ was always the life of any party.  His presence alone commanded respect, and he loved the attention.  If you heard laughter, it was coming from him and one of his stories.  He loved music and played the guitar in a band as a teenager.  And of course, he was the band leader.
He appreciated style, and was rarely seen without a hat, and a pair of sunglasses.  He was always sharp.  But nothing was as sharp as his wit. He could talk circles around anyone and talk sense to them too.  RJ was proud of all he'd done in his life, and often said "Life doesn't owe me anything.  I may owe life something."
Ronald grew up with many of his nieces and nephews, as they were close in age.  When Uncle Ronnie walked in, the event was official.   He loved his family dearly and was truly adored by everyone.
In addition to his parents, Ronald was predeceased by his sisters Emma Cleveland and Vivian Washington; and second wife Vivian Simmons.
He leaves to cherish his memories, continue his legacy, and maintain his joy:  wife Sara Renee; brother Gregory Simmons; sisters Laura Barbour and Charmain Simmons; children Carmella (Darryl) Winfrey; RaVonne (Talat) Muhammad;  Rahaman (wife Beata); Valentina (Marlon) Hutchinson; Ronald Jr; Rhonda (Matthew) Raeford; Tyrese, Michael, Naima, Idris, Aisha, Karim and Solomon; twenty grandchildren;  mother in law Roberta Johnson; sisters in law Rosalyn Simmons, Dana Johnson, and Celina Johnson; uncle Carroll Jackson; and a host of nieces, nephews, cousins and friends.
Come celebrate 69 great years Wednesday Dec. 9 starting at 9 a.m. at Daley Life Celebration Studio, Swedesboro where there will be a noon service.