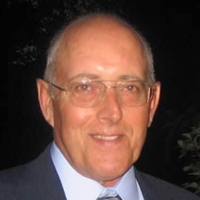 Ronald Bowman, Sr.
Ronald Bowman, Sr.
His boyhood love of the shore never left him.  Late in life Ron moved from Logan Twp to the Villas in Cape May County and became a permanent member of the Sea Star, a charter boat that he fished on at least 3 times a week. "Why buy a boat when you have friends with a boat?"  And maybe the real attraction was getting the rest of his family involved: on a daytrip with his grandson, the proud grandfather was elated when Michael won the biggest fish award. 
Ron was sort of quiet for the most part, except when the Phils committed an error.  And he was a big NASCAR guy: loved the races on T.V. and made it to Dover several times.  If his T.V was on he'd be checking out crime shows; his favorite was Blue Bloods.  Before retirement he could be found at the ACME stores in Woodlyn and Aston, PA. And during most of his adult life he was known as GI Joe. 
Ron served our nation for 30 years in the Army Reserves giving one weekend a month and 2 weeks a summer. But his greatest endeavor was that of grandfather; he thought nothing of driving a few hours to see one of their games.  
His survivors include his mother, Mildred Bowman, a son, Ronald Jr. (Jaime) Bowman, daughter, Stephanie (Matthew) Cosentino, brother, Richard Bowman, and grandchildren: Elyse Bowman, Olivia Bowman, Grace Bowman, Michael Cosentino, Kayla Cosentino, and Joseph Cosentino.
Services will be scheduled at Daley Life Celebration Studio after July 17th in accordance with Covid restrictions.