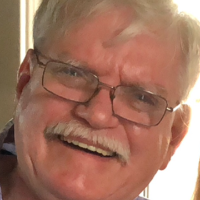 Ron Mooney
Ron Mooney
If he had a weakness it was N scale trains; his "other woman." Even he couldn't tell you how many he owned. Ron didn't like them to be too clean; didn't look very authentic to him. And he liked to keep his Pennsylvania railroad free from any west coast clutter. He was a strict dad but only because he wanted quality kids. Of course they knew that he'd be there to drive them on their paper routes when the load got too heavy. Many relied on him, if for no other reason than Ron could fix anything, though it might have taken a couple tries to get it right. He was a decent cook: spam and egg sandwiches for the kids when they were younger but he eventually graduated up to Omelets. Gourmet meant using Kraft for his mac and cheese instead of the store brand. He retired from the sheet metal union (Local19) and picked up a part time job making deliveries to get out of his "honey do" list. If his T.V was on he'd be checking out some spaghetti westerns, crime shows, Turner Classics or he'd be cheering for the Birds. He was proud to be Irish and got the chance to visit the motherland in 2017.
He'd meet a pretty girl named Barbara at the Telford, but have to wait a year to start dating her. A sign on their bedroom wall defined their 30-year marriage: "Always kiss me goodnight." And after the kiss they would hold hands as they fell asleep though there might be an occasional argument about whose hands were colder. He is survived by his children, David Mooney-Todd (Shawn), Sean (Natalie) Mooney, Jamie (Crystal) Mooney, Benjamin (Norvia) Seum, Elizabeth Morales and Katharine Mooney (David Rimel); and grandchildren, Taryn, Kyle, Timothy, Brandon, Hailey, Paige, Lydia, Molly, Lucas, Tyler, Byron, Bryce, Amelia, and Thomas; and his siblings, Kevin (Fran), James (Janis) and Vincent (Susan).
Come celebrate 78 great years Thursday 8:30-10:30 a.m. at Daley Life Celebration Studio, Swedesboro. Mass of Christian Burial will be celebrated 11 a.m. at St. Clare of Assisi Parish, St. Joseph Church, Swedesboro. Interment, Lake Park Cemetery, Woolwich. Donations in lieu of flowers to the charity of the giver's choice or to a local food bank will be greatly appreciated.