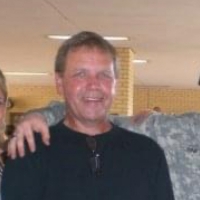 Ron Junk
Ron Junk
All his life he wanted to be a police officer. Ron would work for a few years for the Glassboro department before he was hired by the newly formed Woolwich Township Police; one of the first four officers to be hired. And with his hiring, Woolwich got a two for one: he came with his K9, Hans, one of the first police dogs in the area. He took "protect and serve" to heart: stranded motorists would find a warm dinner at his table and a place to sleep in his home while their cars were being fixed. And you were much more likely to receive some fatherly advice and a warning from Ron than any kind of a ticket: it was everyone's "lucky day." He was also an entrepreneur; Junk Enterprises acted as an independent distributor for a large company out of their home: Thursdays were "soap night" with people coming and going collecting boxes of goods. Though Ron was surely a man's man he fell into his role as the only male in the house for many years with relative ease: many a last-minute run to the store to meet the girls' needs. Luckily, many years later, Josh would arrive; finally blessed with a son he beamed with pride. He wasn't the strictest of dads; Ron and Vicki played good cop, bad cop. For the most part Vicki played the role of the bad cop. Unless, of course, a young man showed up to take the girls out on a date. In that case, Ron would use the opportunity to clean his gun at the kitchen table. The Junk family has a history of service to our nation: Ron volunteered to go to Vietnam in the Coast Guard; Josh followed him in service in Afghanistan.
One of his easier stints in the Coast Guard found him stationed in Sea Isle. The handsome guy happened on some pretty girls heading to the beach to do some surfing. The prettiest told her friend that Ron was the one. Their 50-year marriage was blessed by 3 children: Julie Dellaquilla, Staci (Mike) Aquilante and Josh (Morgan); and later by 9 grandchildren, Jordan, Joey, Jina, and Josie (Dellaquilla), Allie, Michael, Nina and Nicolette (Aquilante), and Jayce (Junk) . He is survived by his brother, Harry (JoAnn) Junk, and his brother-in-law Skeeter (Susan) Urion. He was pre-deceased by his parents, Joe and Molly Junk, his sister, Kathy Junk and his father and mother in law, Bob and Jean Urion.
Come celebrate 73 great years Monday 6-8 p.m. and Tuesday 10-11 am. at Daley Life Celebration Studio, Swedesboro where there will be a 11 am. service. Interment Lake Park Cemetery. In lieu of flowers, donations can be made to the Wilmington VA Medical Center, Nursing Home Resident Fund, 1601 Kirkwood Hwy, Wilmington, DE 19805.