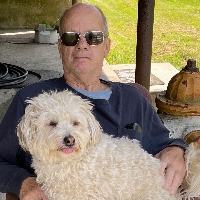 Roland "Fuzzy" MacKannan
Roland "Fuzzy" MacKannan
Roland "Fuzzy" MacKannan died on October 11, 2021, from Mullica Hill, NJ age 69 years.
Fuzzy was a provider to many throughout his lifetime. He was set in his ways and often described as stubborn. He lived very modestly everyday of his life.
He opened his first welding shop in his hometown of Pitman and later moved it to his current home in Mullica Hill. He built this home with his own hands to offer stability to his step children. He was always a hard worker and tried to instill that work ethic in those around him.
Fuzzy was always in constant motion. He could rebuild just about anything. He enjoyed spending time at auctions; never backing down. He could be constantly spotted splitting wood for his pot belly stoves; and, yeah, he built those too.
Fuzzy lived a very simple life. He only ate about 10 different things (mostly chuck roast and mash potatoes) and had ten shirts and ten pants that all looked identical. His outfit wasn't complete until he put on his boots. Which again, he only owned one pair of work boots and cowboy boots. Fuzzy didn't own a single pair of sneakers.
Late in life he met the love of his life Mindy Cameli. They enjoyed the last 10 years together living everyday taking care of the animals that they have rescued over time. Goats, chickens, cats and dogs can be seen roaming the property. His main priority was to make her happy. In his spare time he enjoyed watching old time westerns and sitting in the hot tub.
He is survived by his son, Shane (Erica); step children, Sharon Hagerty (Anthony), Donna Reed, Elizabeth Rodriguez and Robert Reed (Caroline); grandchildren, Seth, Ethan and Adrian; step-grandchildren (10) and his brothers, Chip (the late Gene) and Jack (Pat); and his Aunt, Dorothy "Dot" Rambo. He predeceased by father, Roland (Buck) MacKannan and mother, Beatrice Kearsley, Uncle Charlie Mackannan and Aunt Deloris MacKannan.
Family will celebrate 69 great years privately.