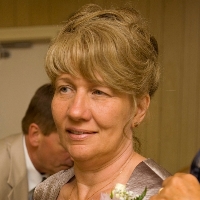 Robin Christian
Robin Christian
Her joy was serving the Lord, and doing for others: Robin had that habit of putting everyone else first, especially in her prayers. Even in her toughest moments, she asked the Lord's help for the rest of the flock. If she was baking, you'd best keep your fingers out of her creations as they were most likely intended for someone else. Tough to do though: she baked with the best of them. Robin would bribe her kids with apple cider slushies to go with her to Mood's to pick berries for her pies. No different when it came to her cross stitching; her art was lovingly created with meaning for each recipient. As a mom, she always let her kids know that she loved them. She was always present for swim meets, baton-twirling parades, soccer games and a variety of other events for her kids.
She worked as an R.N. at Riddle Hospital but found her real calling when she was promoted to Mom-mom. While she wasn't so into babysitting, she enjoyed every minute with her grand children including Turtle Days by the pool and gatherings at the lake. She could be found with the grands surrounding her like baby birds looking for a "squirt" of whipped cream into their mouths. She had a love for animals: as her kids left the nest, she'd replace them with dogs and she had a soft spot for the squirrels in the yard. She found the Lord in 1979 and spent the rest of her life supporting missions. This includes sharing her faith with her family, a variety of missions trips and a faithful member of Living Hope.
A handsome guy named Darrel blew the transmission on his car while out racing. The 11th grader was forced to ride the bus to get to Clearview. He spotted a pretty 9th grader named Robin. Their marriage was blessed by four children: David (Amy), Stasia Reynolds and Pete Sorel, Bethany Kiefer (Jason), Deborah DeSanto (Robert) and an honorary son, the late Greg Davis (Jennifer); dogs: Charlotte (Mom's girlfriend) and Chloe, and additionally by 12 grandchildren. She is survived by her sister Margo Rybyzynske and family.
Come celebrate 66 great years on Saturday January 7, 2023 9-11 a.m. at Living Hope Worship Center, 1566 Center Square Road, Logan Twp, where there will be an 11 a.m. service.
In Robin's honor donations may be made to Convoy of Hope (http://bit.ly/3GF8QyR)
Select the "Fund" drop-down and choose "Convoy of Hope." Enter the desired amount, then enter "Robin" in the "Short Text" area. Thank you for your generosity.