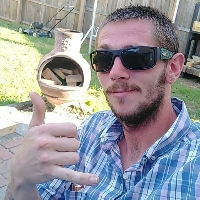 Robert Zanes Jr.
Robert Zanes Jr.
He lived every day as an adventure. Even at his young age, Robbie had lived in more states than most people will ever visit. And for him work was the ultimate commitment; practically nothing could keep him away. Robbie worked in construction and he loved it: he went as far as living in a tent at work sites to insure he'd be there. He was an unabashed dog lover, a fan of air soft and Call of Duty, hard rock and punk music and had more than his fair share of tattoos. But everyone knew that for him, family was number one. He loved making them laugh (and you never knew what he was going to do) and adored his niece and nephews as if they were his children.
Rob is survived by his father, Robert Zanes Sr.; his mother, Meredith Gayle; his step-mother, Becky; his sisters, Samantha Gayle, Britney Deyarmin (Josh) and Stephanie Zanes; his grandmother, Patty Gibbons; his grandfather, Donald Zanes; his step sisters, Alicia Seran, Jessica and Megan Hughes; uncles, Darren and Joseph Zane; nephews, MJ, Landon, Shane, Jaxon, Braden, and Evren and his nieces, Violet and Clover.
Family will celebrate 28 great years at a memorial service that will be announced shortly.