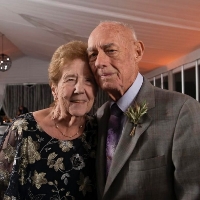 Richard and Jane Tighe
Richard and Jane Tighe
In 8th grade, the Pedricktown boy would meet the Carney's Point girl at the Riverview Beach Roller Rink. After High School, nuptials soon followed, and they'd share a 63-year marriage blessed by 4 children: Sheri Olbrich (Al), Rick Tighe (Debbie), Jeanette Vollmer (Paul) and Susan Tighe, and later by 7 grandchildren and 8 great-grandchildren.
As a couple their lives were about helping others. They found their greatest joy in the blessing of being able to care for their parents and several aunts as they entered into their twilight years. They spent a lot of time together as a couple: they bowled in a couple's league, built their first home, and even shared a meandering limo ride for their 25th anniversary. As parents they weren't the strictest, but it only took a look from Mom or Dad to get their kids to behave.
Richard and Jane found their real calling later in life…being Grandparents. Of course, they were built in babysitters, but they were the grandparents the grandkids loved to be around: camping trips all over and sleepovers that involved very little sleep. Most importantly, they loved so unconditionally that every child, grandchild and great-grandchild sincerely believed that they were the favorite. They also were devoted to serving others and to their church, first Hudson UMC in Pedricktown and later Zion Community Church in Clarksboro.
Richard and Jane also did a lot of travelling. Between cruises and trips in their motor home they saw all 50 states. They shared their love of camping with many others as members of South Jersey Gems, KFBO and trips with their extended family. For a time they were even in business with their friends establishing a new campground in Alabama.
Richard could turn a wrench with the best of them: he was a true craftsman. He kept everything humming at Monsanto as a maintenance mechanic and his home in Clarksboro featured a bevy of his creations including the gorgeous oak bar in the home's previously unfinished basement. People relied on his leadership: Boy Scouts, his church, and his community. He was a committeeman in Oldman's Township, following in his father's footsteps. Later he became Mayor. Richard was always in motion. He sometimes worked a 2nd and even 3rd job, because he liked his family to have the extra little things in life. In the late 50's, he served our nation in the National Guard. He saw many a Nascar event with his family and friends. He was one of those guys who showed up for the race a week in advance to save camping spots for the group.
Neither snow, nor rain, nor heat, nor gloom…. Earlier years found Jane working for the Pedricktown Post Office as a part time rural carrier, filling in when the regular carrier was away. She'd later become a clerk in Penns Grove and Postmaster in Mt Royal and Mickleton. Like her husband, she was always on the move: Jane was the Secretary for the board of education, a volunteer with the Brownies and the 4H and loved entertaining family and friends. But she enjoyed nothing more than popping out to a store to pick up a few things. While there, she figured she might as well do a little browsing; or shop till she dropped. Her yard rivaled Longwood Gardens: a sea of color. She spent weeks driving back and forth to a quarry in an old pickup truck to get just the right landscaping rocks for her yard. She cooked the best mac and cheese and spaghetti and meatballs and baked everything from scratch. And if the dishes were tasty she wouldn't keep it a secret: everyone was welcome to her recipes. She took Christmas decorating to a whole new level: a place for every decoration and every decoration in its place.
Richard is survived by his siblings, Patti Gibbons, Gene and Terry Tighe; Jane is survived by her siblings, Barbara Schilling, John, Donald and Bruce Piel; Richard was pre-deceased by his sister, Joan Nothdurft.
Saturday Nov. 7 will be a day about LOVE. Come celebrate 82 great years 9 a.m. to noon at Sharptown UM Church, 3 Chapel Street, Pilesgrove.  Please wear masks and observe social distancing. The Memorial Service will be livestreamed at 12:30PM on the Sharptown Church Facebook page. Donations in lieu of flowers to Zion Community Church, 242 Kings Highway, Clarksboro NJ 08020 will be appreciated.