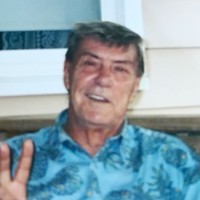 Ralph J. Cunningham
Ralph J. Cunningham
The man, the myth, the legend: his name was Ralph and he was number one. 
If you met Ralph most likely he'd tag you with a nickname (that is if he liked you): Alice, Toots, Tessy, Linus, Motormouth, Bugs, Scooch, the ultimate male, Morehead and a few we can't mention. With Ralph you got the unvarnished truth: he had no filter.  He worked shift work at DuPont and napped on the couch in the daytime; don't think about changing the channel; he was watching it with his ears. Of course that was one of the few times he'd explain himself.  His usual explanation was because he said so.  
He was a fun dad, but he had little tolerance for laziness, stupidity, irresponsibility and phone calls to his home between 4-6 p.m.  He made Christmas magical: his kids got a bundle and he always hid one last gift.  His house was decorated to the max; uncles on the roof making reindeer sounds and there were Ho Ho Hos off in the distance. 
For family and friends he was Mr. Fix It, though his temper was often on the short side.  Some projects got tossed against a wall.  But he'd eventually get everything to work, even if it took duct tape and a little PVC.  Ralph worked at his friendships: he had them for life.  Always with a rod in hand; he fished all over Jersey and he did a little scuba diving. 
Once while under the water he found a cash box and turned it over to the authorities. He enjoyed playing darts and horseshoes.  For entertainment he watched old westerns on VHS and messed with telemarketers and his favorite baseball team was not the Phils; he stuck with the A's when they moved from Philadelphia to Oakland.  All day Sunday football on the TV was a given. He was a statistics man.
Ralph was the husband of the late Beverly Mason and father of Jody Cunningham Bradway, Kim (Gary) Minguez, Ralph (Nicole) Cunningham Jr., and Kelly (Steve) Cunningham-Rohrer, brother of Richard (Judy) Cunningham, grandfather of 9 and great grandfather of 10. Larry and Kathy Mason, a nephew and niece he and Bev raised as their own.  Also surviving are his birds, Wacko and Leroy; aka his chickens.  In the end, departure was hard for him as he wanted to stay and protect his children.
A celebration of his 83 years was enjoyed by his family and a memorial service will be held at a later time.
Donations to Sarah's Heart Dog Park will be appreciated. Please Venmo Donations to @ecline746