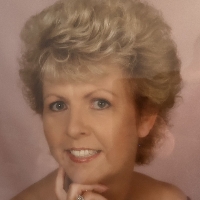 Priscilla Nickerson
Priscilla Nickerson
You can't stop a girl from shopping. Priscilla loved finding a bargain, be it in person or on QVC. As a longtime driver for Liebfarth bussing she knew how to maintain order with the kids. But she loved driving even more in her later years when she worked with the special needs children at St. John of God School. The kids would know her warmth both as a driver and an aid. But her real calling was as a grandmother; endless hours on the phone and one on one time with the grands. She enjoyed the sounds of Elvis and Johnny Mathis but would light up the most when her favorite Mel Carter song would play: Hold Me, Thrill Me, Kiss Me. She and her husband would immediately take off for the dance floor. She met the late Joe in the Summer of 1959. He was racing cars with friends at the Alcyon Speedway when he spied the pretty, blonde-haired girl sitting in a car. He took that opportunity to walk to the car, lean into the window and say "Baby, I'm going to marry you". The two would share a 62 year marriage. Throughout the years they showed way more displays of affection than their four children could stand. They were truly in love.
She is survived by four children: Eleanor Stokes, Kathleen (Mario) Correa, Joseph Nickerson IV, and Loretta Nickerson; four grandchildren Ashley Stokes (Gary) Pizzichillo, Kyle Stokes (and their father Glenn W. Stokes), Nichole Correa and Gina Correa; and three great grandchildren, Giuliana, Antonino and Gianluca Pizzichillo.
Come celebrate 81 great years Tuesday 11-1 p.m. at Daley Life Celebration Studio, Swedesboro where there will be a 1 p.m. service. Interment Lake Park Cemetery, Swedesboro.