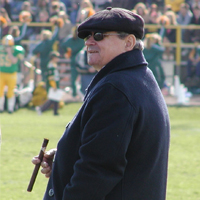 Philip F. Bellace
Philip F. Bellace
Royal Salon haircuts cost 20 bucks, but the entertainment was priceless: a steady stream of laughter, opinions and arguments punctuated by Phil singing classics from Dino and Frank.  Actually it was mostly the opinions; adamantly expressed. You always left looking good with a smile on your face.  It was quite a journey: at the age of 13 he started training in Philadelphia and cutting hair on weekends and during the summer.  He'd take over where his father left off.  Another barber was nice enough to let Phil run his dad's shop under his license at the bottom of the steps on Kings Highway.  He'd later move his operation to 2nd street and eventually to Mickleton.  Getting your first haircut at Phil's was a right of passage for most boys in the area.  The long hair rage of the 1960's was tough on Phil but his loyal base kept him in business.  If he wasn't cutting hair he was obsessing about sports:  Phil supported and funded the Coach's Trophy for the Kingsway/Clearview Thanksgiving football game and in the 80's he had a sports show on WJIC radio with John Buyarski: play by play and lots of color commentary.  He was Catholic through and through: Phil was an altar server as a boy and today you could hear him ringing the bells at 7:30 mass if there were no altar servers at that mass. Phil yearned to have the Latin Mass back.  Though he was always involved behind the scenes in Swedesboro politics he limited his official positions to winding the clock in the Borough Hall Tower, raking in the princely sum of 50 dollars a year.  Phil enjoyed his Monday night card game with the guys.  They played every week until social distancing broke up the game.  A graduate of St. James he was voted Mr. Spirit his Senior year, 1965.  A proud Spartan til the end.
Turns out a pretty girl was teaching his daughter.  He'd meet Christine Randazzo at a back to school night.  They'd start dating after his daughter graduated from  East Greenwich Elementary School.  May 1984 was their first date, July found them getting engaged; nuptials were  December 29th; the hottest December 29th on record  to this day.
Phil is survived by his wife of 35 years, Christine.  Children: Christa (Brian) Moss, Philip C. Bellace, Sondramarie (Daniel) Wyckoff, Romano Bellace and his  grandchild, Jordan Wyckoff. He was the brother of Charles and Rosemarie Bellace and the son of the late Charles and Santina Bellace.  He also has many loving nieces and nephews. Family will celebrate 72 great years privately but a memorial mass will be held at a later date.