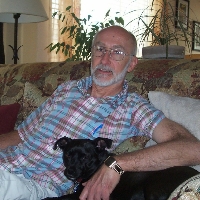 Philip Rudolph
Philip Rudolph
To know Phil was to know both a man of faith and a man of science. He could teach you more than one way to tie your shoelaces, but he could also teach you the Latin name for any living creature. He was meticulous and thorough in everything he did. Whether it was maintaining the family cars, working on the house, or answering one of his kids homework questions, one thing was always certain, when he was done, it was done completely and it was done right.
He loved going for long walks in the woods, either to hunt, or more likely, just to absorb nature. As a kid, he would explore the fields around Roslyn. Over the years though, he included both his kids and then his grandkids on his nature walks around Pennypack Nature Preserve. Although sometimes it was just taking a moment to observe nature in his own backyard.
Phil served his community as a scout leader, a church elder, and an advocate for recycling services. In his career, he worked as a contractor as well as a technical director, developing equipment used to control the spread of diseases by mosquitos. A career which led him to become a volunteer for a Lyme disease support group. He would take phone calls, day or night, from strangers needing a bit of hope or a listening ear. He was always there to provide assistance and to acknowledge their pain and frustration.
A few years ago now, a 17-year old Phil met a pretty 16-year old girl named Evelyn in a youth group at his church. He was attracted to her lively dark brown eyes and spirited attitude. 57 years ago this month, the two were married, and their life together took them to Pittsburgh, where he completed his Ph.D. in freshwater ecology; then Somers Point, NJ; and eventually to Willow Grove, PA, where they lived for 34 years.
Phil and Evelyn were blessed with 3 children: David (Lia), Debbie (Dave) Braig, and Becky (Pete) Karabatos; and 3 grandchildren: Zach, Ashton, and Gigi. He is survived by his sister, Marcia Russell (Barry).
Come celebrate 78 great years on Saturday, September 26th, at Daley Life Celebration Studio, Swedesboro, NJ where there will be a noon service. Doors open at 11. Please plan to wear a mask and maintain social distancing.