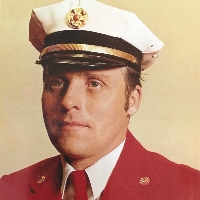 Philip J Mattson
Philip J Mattson
His life was about service to community. PJ graduated from Augusta Military Academy in Fort Defiance, VA and then earned a Junior Business Degree from Goldey-Beacom College. He worked for a short time at DuPont before he was called to serve his nation: April 1968 he was drafted into the Army. His Basic training was at Fort Dix followed by advance training in Fort Leonard Wood where he would become a Combat Engineer. He then had Vietnam jungle training at Fort Sill Oklahoma before shipping off to Vietnam in April 1969. He served 1 year in Vietnam, came home a Sargent E-5 and received an honorable discharge from the Army. He returned to work at the Chambers works as an Emergency Response Technician where he worked until he retired in 2003. He had joined the Woolwich Fire Company in 1964 as a reserve and won the Outstanding Reserve award in 1965. In 1966 he became a regular member. In 1980 after serving as 2nd assistant Chief and 1″ Assistant Chief, he became Chief and served for 14 years in this position. He was also the Fire Marshal, State certified Fire Inspector, and the State certified Fire Official for the Borough of Swedesboro.
He was never more comfortable than when he was out in nature, shotgun or rifle in hand: PJ was the Captain of the Swedesboro Antlers. He also was the Treasurer of the Woodbury Antlers. His other interest was model railroading. He would open his house for visitations to his railroad every November; it took 10 people to run the operation. PJ was always upgrading. He was awarded the National Model Railroad Association designation of Master Model Railroader. He served as an Officer in the Mid Eastern Region of the NMRA where he rose to be the President. When the VFW Post 10886 was formed he joined and became the Quartermaster for the post. But of all his endeavors he most loved being a grandfather; the only time the grandkids had to be quiet was if he was watching sports: PJ suffered with his beloved Phils, Flyers, and Eagles.
He met a pretty girl named Jeanette. The love of his life, they shared a 43-year marriage. PJ is survived by his stepdaughter, Janet Bain; stepson, Martin Graham; 3 granddaughters, 3 grandsons, two great-granddaughters, one great-grandson, and one more on the way.
Come celebrate 78 great years Friday, May 5th, 9-11 a.m. at Daley Life Celebration Studio, Swedesboro where there will be an 11 a.m. storytime service. Donations in lieu of flowers to Woolwich Fire Company, 1517 Kings Highway, Swedesboro, 08085 will be appreciated.