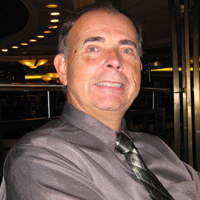 Philip C. Pyle
Philip C. Pyle
He always walked on the sunny side of the street; you knew from the ever present smile on his face.  He thought that life was best lived a quarter mile at a time: 130 mph in the "PyleDriver" on the track at Atco.  He served our nation in the Army National Guard as a tank mechanic.  When he was discharged he got a job with Mobil Research.  He worked there for 35 years until retirement.  Retirement found him on many a cruise ship, 65 to be exact. Alaska, Hawaii, South America and the Caribbean were his favorite ports.  Born and bred in Clarksboro he loved the family property and living next to his two brothers and their families. 
One day he met a girl named Stella White at a high school football game.  They knew that if they could survive their wedding on a July day, with no air conditioning, the rest of their marriage would be a breeze.  They were together for 52 years and were blessed with two children, Kevin, Kim and a grandson Galen Fogleman.  He is survived by his brother, Donald Pyle.
Family celebrated 75 great years at a private service.