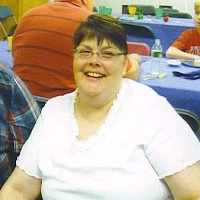 Patricia Etheridge
Patricia Etheridge
Patricia was a sassy gal who loved the Lord: her smile and laugh brought endless joy to Living Hope Worship Center. She always had a book she was devouring; usually Christina books but also anything about her favorite place, Lancaster. She made many a trip out there enjoying all the restaurants and shops. Her Woolwich home was full of all her Amish finds. If her T.V was on she'd be checking out the I.D. channel, solving crimes with her favorite shows.
She'd meet a handsome guy named Chuck when she was waitressing at the Silver Coin Diner in Hammonton. They'd share a 29-year marriage blessed by their son, Anthony Lee Etheridge. She is survived by her mother, Carol Wilson; and her sisters, Ann Sanchez (Robert) and Angelina Jillson (Dave).
Come celebrate 57 great years, Thursday, April 6, 7:00 p.m. at Living Hope Worship Center, 1566 Center Square Road, Logan Twp.