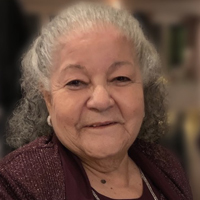 Noelia Mendez
Noelia Mendez
Noelia Mendez, age 75, of Salem, NJ was granted her angel wings on February 28, 2020. She spent her final days surrounded by family and passed in the comfort of her daughter's home in Woolwich Twp, NJ.
Born and raised in Vega Alta, PR. Noelia migrated throughout the east coast at the age 15, found her home in New Jersey where she preceded her journey. She dedicated several years in the 70s working for Chrysler plant in Newark, De and later became an agricultural laborer than homemaker. Noelia was an active member of Penton Chapel church in Alloway, NJ.
Noelia was a devoted, loving mother, grand/(great grand)mother, sister, aunt, and friend to many. She was recognized as "Mom" for her kindred spirit and loving heart. She dedicated her life to her family and enjoyed their presence. Noelia was a praying warrior who continuously prayed for the protection of all; one will never leave her presence without her saying "God bless you" or "Que dios este contigo, que te proteger de cualquier dano o peligro para ti y todo lo tuyo…". She was passionate about cooking; serving a dish for one that could feed five. Music was joy to her ears; she danced and sang along to it. In the absence of rain or snow, Noelia did not stay within any home. She enjoyed the outdoors, visiting places, and admired nature. She loved her gardening, flowering plants, and scenic drives to the shore or
Lancaster Pa. During time for vacationing, she was asked where she would like to go. Her response was always "Florida!" despite her many adventures there. Lastly but not least, she had an infectious smile and soul that would never be forgotten.
Noelia was preceded in death by her parents Buenaventura Fuentes (mother), Enrique Mendez (father), six brothers, three sisters, sons, Miguel Rojas, Armando Rojas, and grandsons Gregory Edwards, and Angel Mendez Jr.
She is survived by her sisters: Theresa Mendez Soto, Eva Mendez, Lillian Mendez; and her children: Rosa Rojas Patterson, Mayra Rojas Laporte, Ada Santana Rosado, Domingo Mendez, Alejandro Mendez, Angel Mendez Sr., Jose Mendez, Norma Mendez Boatright, granddaughter Angela Mendez whom she raised as her own, 37 grandchildren, 38 great grandchildren, nieces, and nephews.
Come celebrate 75 great years March 8, 2020 from 12-2 p.m. at Daley Life Celebration Studio, Swedesboro where there will be a 2 p.m. service.  Interment Lake Park Cemetery.