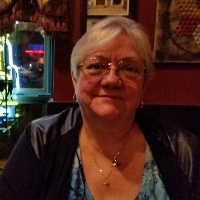 Nancy Gauntt
Nancy Gauntt
Nancy was a social butterfly. A quick stop out to the store lasted a few hours with all the friends she would bump into; she once attended her husband's High School Reunion and within an hour knew more people than he. And if she wasn't out socializing in the real world, she'd be doing it on Facebook. As a maternity and scrub nurse at Inspira Woodbury, Nancy was that co-worker who always cooked meals for all her co-workers. She made the best soups: corn chowder and chicken noodle. Some said she was set in her ways, those who loved her most knew she was stubborn. Either way, when Nancy made up her mind there was no changing it. As a mom she wasn't very strict, but Dave knew she was always in control. Summertime was for the shore, crabs and fried tomatoes. She loved the sounds of classic rock (Zeppelin, Floyd) and her T.V was either tuned into medical shows (Dr. Pimple Popper) or Orange is the New Black. She was a proud graduate of Collingdale High School and a regular every year at Colls on the Cove.
A handsome guy named Mark somehow finagled her number at the VCI. She may have blown him off for their first date but after the second they were seldom apart. Within the year they were married. They were blessed by a son, Dave and she is survived by her sister, Claire.
Come celebrate 67 great years Tuesday July 12, 2022, 9 a.m. to 11 a.m. at Daley Life Celebration Studio, Swedesboro, where there will be an 11 a.m. service.