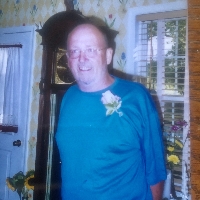 Morris Lincoln Johnson III
Morris Lincoln Johnson III
Linc opened a printing company in Woodbury, Auto Print. For him, the employees always came first. In tough times he'd give them a raise and forego one for himself. And he gave back to his community sponsoring countless local teams; a point of pride for the sports fanatic. He was a season ticket holder the Phillies and the Eagles and had hats for both teams. Some were magic hats: he'd put them on when they were losing. Not only did he do the cooking for his family, he prepared gourmet meals for the them: he'd hand them a fine dining magazine and say "pick something." And the ingredients often originated from his own backyard garden. Relaxing times found him escaping to his fishing cabin in Galloway Township. That night his catch would be on the dinner table. Linc was easy going just like the music he loved: soft classical.
He'd marry a pretty girl names Patricia. They'd share a 25-year marriage. He is survived by his children, Jeff Johnson and Kristen Smith; and step-children, Danielle Nyce, Nicole Keating, William Keating, Joseph Keating and Benjamin Keating; and 13 grandchildren.
Family will celebrate 79 great years at a private service.