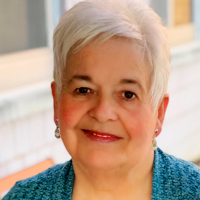 Misty Sharbo
Misty Sharbo
Her hands were constantly in motion.  Misty crocheted: many a homeless person received the warmth of her hats, newborns the coziness of her blankets and her kids and grandkids the comfort of her ponchos; and come Christmastime her stockings were hung by the chimney with care.  She scoured youtube for new patterns, though she just used them as a rough guide. But she was really meant to be a grandmom. She never missed a grand's event and when mealtime came Misty changed food names to entice them to eat.  Soups were named ball or batman soup, mashed potatoes became clouds and vegetables stars.  No need to rename her bread pudding: no sooner made than it was gone.  But most loved were her birthday bundt cakes: everybody had their own flavor. She was never without some book she was devouring.  Crime and biographies were favorites; James Patterson couldn't write fast enough.  If her T.V. was on she'd be checking out the political action on MSNBC, Downton Abby and game shows.  Misty was a solid woman probably dating back to her youth being raised on her family horse farms in Erial and Mullica Hill.  It also left her with a lifelong love of animals, at one point breeding Dachshunds. But most importantly she had a powerful ear, listening much more than talking.  When the time was right she'd offer a little sage advise.
Misty was blessed with 3 children who she could read like a book: Jennifer  Cavallaro-Fromm (Thomas), James Shaw (Wendi) and Jessica Alvarez (Adrian).  Her other favorites were grandchildren: Olivia Cavallaro, Jackson Cavallaro, Michael Links, Savannah Shaw and Matteo Alvarez. She is also survived by a brother, Leonard Romano, Jr. 
Come celebrate 69 great years Sunday, February 9 from noon to 2 p.m. at Daley Life Celebration Studio.