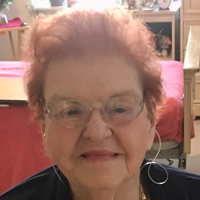 Mildred Evans
Mildred Evans
Mildred Evans (nee Noll) passed away on July 15, 2020, at the age of 92.  Born on January, 22, 1928, in Philadelphia, PA, she enjoyed playing bingo, going shopping, trips to the casino, and was an avid Phillies baseball fan.  After raising her family, she moved out of the city to South Jersey and became a long-time resident of Swedesboro, NJ, where she liked to "work the polls" on election days.  She spent her final years at Seashore Gardens Living Center in Galloway, NJ, in order to be closer to her family.  She will be remembered for her red hair, boisterous personality, and love of all things sweet and salty.
Mildred is survived by her children, William Lawrence (Doreen) and Lois Worthington (Arthur), her step-children, Edward, Nancy, and Helene, and many grandchildren, great-grandchildren, nieces, nephews, and friends.  She was predeceased by her husband of 40 years, Edward, her children, Gail Derr and George Lawrence, and her siblings.
A private celebration of Mildred's life will be held at Daley Life Celebration Studio in Swedesboro, NJ, followed by a Christian interment of ashes service at Eglington Cemetery in Clarksboro, NJ, on July 22, 2020.
In lieu of flowers, Mildred wished for donations to be made to Shriners Hospitals for Children on her behalf.