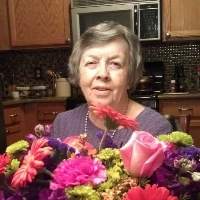 Mildred Eastlack Luongo
Mildred Eastlack Luongo
September 24, 1932- August 12, 2020
On August 12, 2020, Mildred Eastlack Luongo passed away peacefully at the Keystone House hospice in Wyndmoor, PA, at the age of 87. Mille was born on September 24, 1932, in Woodbury, NJ. She grew up in Repaupo, NJ, with her parents Anna and Wilmer Eastlack and her brother Paul. She graduated from Paulsboro HS in 1950. Millie attended the Philadelphia Business School and afterward worked in the Advertising Dept. at Campbell Soup Co. On March 14, 1953, Millie married Guy Michael Luongo. They had four children Kristie L. Chandler, Nancy MacDonald, Guy Steven Luongo, Julie Anna Luongo. Millie had eight grandchildren: Katie and Gerritt Perkins, Emily and Mark MacDonald, Steven and Tyler Luongo, and Brandon Hughes.
Later as her children were older, Millie achieved a certificate as a Medical Assistant, which she enabled her to pursue a career in the medical field which she had desired since high school. Millie worked at the hospital in Chestertown, MD, and eventually moved back to this area where she worked and retired from Bayada Nursing in Washington Township.
Millie will be laid to rest Saturday, August 14, 2020. Her funeral will be held at the Daley Funeral Home in Swedesboro, NJ. Visitation at 10 a.m.,  a short service at 11 a.m., followed immediately by the burial at the Eglington Cemetery and Memorial Gardens in Clarksboro. In lieu of flowers, the family is asking to please donate to www.purrfectangels.org or Animal Welfare Association of NJ at https://www.awanj.org/ Both are no-kill shelters in Gloucester County. Millie loved cats and dogs all her life.
Millie's thirst for learning, love for others, and care of God's creatures large and small will live on in her children and grandchildren. Millie will be dearly missed, and her family will love her always.