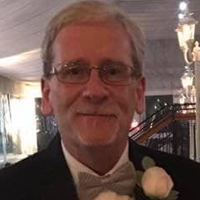 Michael Glass
Michael Glass
Mike was a great husband, father, brother and friend. He was a kind man, a giving man. Anyone that would cross his path, instantly liked him. For Mike, family always came first. As a dad, Mike thought nothing of driving two hours after a long days' work to see his daughters sporting events. In fact, he never missed one. Sometimes he'd even have a work buddy in tow. His girls were everything to him. But, perhaps, his most special relationship was with his son. They shared many simple times together: from running errands to watching sports, they just enjoyed each other's company. They were so close that Mike was even his son's best man at his wedding. He not only was a great father, he was the best grandfather a kid could ask for: Mike made up songs to get the kids through potty training and he'd offer to pick them up just so he could get a little alone time with them. He was their world. He loved his family vacations with his wife, kids and grandkids every year at the Delaware Beaches. He'd book a house 9 months in advance and start a countdown right away. When his T.V. was on he'd most likely be checking out some reality shows like Below Deck and of course, The Real Housewives. He lied about liking Soap Operas when his wife would make him watch it with her. Mike never forgot his Baltimore roots; the family would get together every Sunday and watch the Raven games. A stray cat could do no better than to find its way to his doorstep: he'd let them warm up in his garage in the wintertime and made sure to feed them every day. He was a sales manager for American Furniture Rental and enjoyed his career. After his retirement, laundry didn't seem so bad.
But Mike's most important moment in his life was when he interviewed a pretty girl named Gina for a cashier job at a Deli. She'd get the job and a husband. As much as a spitfire as Gina was, Mike was her calming force: "Take the high road, Gina" he'd always council. Their bond was unbreakable and they were the definition of true soul mates. Along with Gina came another family; there were no in-laws in Mike's world, just more family members. Their 38-year marriage was blessed by three children: Michael David (Deanna) and twins, Maryanne (Shawn) Bolling and Carley (Michael)O'Hara and later by grandchildren, Michael Jr, Shawn Jr, Kennedy and Myles. He is survived by his sister, Roberta Pearlman.
Come celebrate 64 great years Tuesday 4-6 p.m. at Daley Life Celebration Studio, Swedesboro where there will be a 6 p.m. service.