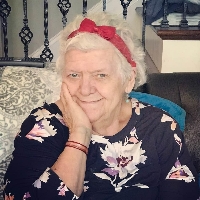 Mary Jane Scarcella
Mary Jane Scarcella
She was all about her Baltimore home: Mary Jane kept it spotless but welcoming for all the kids in the neighborhood. She ventured out mostly for food shopping (which she did every day) and Saturdays found her off to all the other stores to gather up the family's needs. Of course, for Mary Jane family meant more than those with a blood relation: she was the neighborhood mom. She had a group of kids known as Jane's gang: her children and a gaggle of other neighborhood kids. She'd take them around Baltimore to the Zoo and adventures like horseback riding. Initially they travelled to those adventures by foot or by bus but after she got her license in her 40's she packed them all up in her baby blue Granada. She even had her own neighborhood carnival with the kids. She was never without a dog and a stray cat could do no better than find its way to her front step. She would have been thrilled to have spaghetti and meatballs every day.
One day a handsome boy of 11 years popped into her home to deliver ice. A young Mary Jane announced to everyone she'd one day marry him. On June 9, 1956 she was proven correct. She and the late John were blessed with 5 children, John Jr. (Maria), Gina Glass (the late Michael), Kelly Scarcella, Bernadette Scarcella and Valentina Szczepanik (Paul); 10 grandchildren, Mikie, Natalie, Emily, Mary Anne, Carley, Ashley, Sydney, Montana, Henry and Cara Mia; and 8 great-grandchildren.
A memorial mass will be celebrated at Sacred Heart of Mary, Roman Catholic Church, the Baltimore church where she married and raised her children. Due to Covid restrictions Mass will be private. Donations in lieu of flowers to Salvation Army Christmas Fund, (salvationarmyusa.org) or ASPCA (aspca.org) will be appreciated.