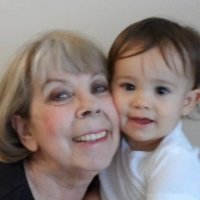 Mary Jane Mendicino
Mary Jane Mendicino
Mary Jane Mendicino, age 71, of Logan Township (previously Darby PA), passed away peacefully in her
home on September 16th with both of her daughters by her side. Mary Jane was a devout Catholic and
stayed active in the church as long as she could. When COPD began to limit her mobility, FaceBook
became her connection to the world. She joined many prayer groups and made numerous spiritual
friends from around the world (she also kept up-to-date on pop culture, surprising many when she'd
inform "them" of what Kim & Kanye were up to or how Beyonce looked in her last performance).
Mary Jane had an infectious laugh that included a distinct "howl" when she was trying to stop herself.
She had many stories she loved to share and, despite living in NJ since 1987, kept her hometown accent
("pilla" (pillow), "winda" (window), "me-in" (million), and excessive use of the word "says" (I says….
Then she says…"). She always lived within her means but gave what she could (and wished she could give more). Mary Jane was loved by many and will truly be missed.
She is survived by her daughters, Carol (Joseph) Booth and Angela Mendicino; grandchildren, Kristie-Anne Booth and Joseph Anthony Rodriguez; and her sisters, Nancy Lerro, Patricia Murphy and Lorraine Murphy.
Come celebrate 71 years Wednesday 9-10:30 at Daley Life Celebration Studio, Swedesboro where there will be an 11 a.m. service. Interment Sts. Peter and Paul Cemetery, Broomall.