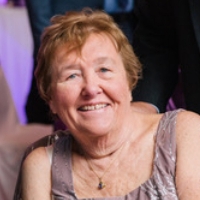 Martha Anne Cicero
Martha Anne Cicero
Martha Anne (Kitson) Cicero, born February 27, 1941 died at home on January 8, 2023 surrounded by her loving family.
Martha was born in Jersey City, NJ and lived in several north Jersey cities before moving to Keansburg in 1954. She was a graduate of Red Bank Catholic HS and Brookdale Community College. She spent 30 years working both as the parish office manager at St. Mary's, Colts Neck and as a tax preparer, teacher and office manager at H&R Block. Additionally, she spent many hours volunteering in her children's schools, teaching RE classes and various other projects.
In her spare time, Martha loved entertaining family and friends. She would spend hours creating wonderful meals (she was quite the chef), hosting family parties for all occasions and even had the occasional theme party as an excuse to get everyone together. She was always happy to welcome anyone in her home and would insist they stay for dinner as there was always plenty to go around: she taught her family that there was always room for one more. This open door policy also extended to her children's friends who would often stop by to visit even when her children weren't there.
Martha always loved the beach and centered her vacations around water. For years, the annual family vacation was time in Cape May, spending her days with a book in her hand with her feet in the sand. This love of the ocean was expanded when she & her husband Bob discovered cruising on their 30″ wedding anniversary. Cruising became a passion and they went on dozens over the years sailing to Alaska, Hawaii, Europe, Bermuda and the Caribbean. She organized many trips for friends and family, enjoying a trip this past summer with a group of 15, including 4 generations of family, to Bermuda. She has definitely passed along a love of cruising to her family.
She loved nothing more than spending time with her family. She married the love of her life, Robert (Bob) Cicero in 1962 and spent years living in Freehold, Jackson and Swedesboro NJ. Spending family time was always a priority, whether it was as a young family of four, visiting with her extended family, or watching her granddaughters and now her great-grandchildren and their antics.
Her great-grandmother spied a handsome boy waiting at the bus stop. After High School Martha and the late Bob began dating. Their symbiotic marriage was blessed by a daughter, Elizabeth (Kenneth) Riley, Swedesboro, and a son, Robert (Jennifer) Cicero, Jackson; and later by granddaughters, Rebecca (Brendan) Coughlan, Swedesboro, Kaitlyn (Kurt) Pflugfelder, Swedesboro, Rosetta & Victoria Cicero of Jackson, and the lights of her life — the greats — Ellie & Jack Coughlan and Maddie Pflugfelder. She is also survived by many extended family and friends who will miss her greatly.
Come celebrate 81 great years Friday 8:30 to 10 a.m. at Daley Life Celebration Studio, 1518 Kings Highway, Swedesboro. Mass of Christian Burial will be celebrated 10:30 a.m. at St. Clare of Assisi Parish, St. Joseph Church, Swedesboro. Interment St. Joseph Cemetery, Woolwich. Donations in lieu of flowers to Children's Hospital of Philadelphia (chop.edu) or Memorial Sloan Kettering Cancer Center (mskcc.org) will be appreciated.