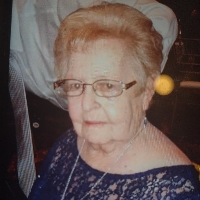 Marion M Alestra
Marion M Alestra
Marion M Alestra
12/20/31 – 03/09/22
Marion M Alestra (Cuthbertson) age 90, of Williamstown, NJ (formally of Thorofare/Mullica Hill) passed away suddenly on March 9th, 2022 at Jefferson/Kennedy Hospital in Washington Twp NJ. Born in Paulsboro, she lived most of her life in Thorofare. It was there that she raised her 5 children along with her husband of 58 years Vincent B Alestra. She lived her life caring for others, and was instrumental in the lives of her grandchildren, who relied on her kindness and Love daily. She was a homemaker early in life and worked alongside her husband with his farming, while raising their children. Later in life as the children grew she went to work outside the home and was a Supervisor at the Abilities Center in Westville, her nurturing nature allowed her to shine at this position and she really enjoyed her time working with her clients.
Their home in Thorofare was more than a house, it was the central meeting place for friends and family to gather. If you visited on a Sunday, the aroma of Marion's delicious gravy and meatballs would be simmering on the stove. A pot of coffee would be put on, and she would be saying " come and sit down" while placing plates of her homemade pizzelle cookies on the table along with other baked goods as she loved to bake and cook for everyone.
In her youth Marion and her family would travel to Wildwood and camp at "tent city", she loved to share these memories with her children and grandchildren of being at the beach and crabbing at Beaver Dam. One of her favorite pastimes was to adventure to Atlantic City with her sisters Mary and Emma to "Hit the Slots", see a show and enjoy a nice dinner. She also enjoyed doing puzzles, crafts, and playing bingo with her fellow rehab residents most recently.
Marion's heart was as big as the pumpkins her husband grew in the field next to her home!! She was nurturing, giving, caring, with a selfless spirit that she loved to share and spend time with her children, grandchildren and great grandchildren.
Wife of the late Vincent B. Alestra, she is survived by children Linda Alestra Messina (Bob), The Late Joanne Alestra Lindner, Joseph Alestra (Dianne), Vincent Alestra (Kim), Catherine Alestra Greathouse (James); 10 Grandchildren: Stephanie Helms (Scott), Louis Cataldi (Meghan), Nicholas Alestra (Essie), Vinnie Alestra, Jessica DiGennaro (Zach), Katherine Larwa, Anthony Alestra, Ryan Graves, Timmy Alestra, Jake Alestra and 3 Great Grandchildren: Carly Helms, Magnolia DiGennaro, Eleanor Digennaro and one more on the way (Nicky and Essie) and many nieces and nephews that loved and supported her.
Family and Friends are invited to visitation, Saturday March 19th, 2022 from 12:00pm – 2:00pm at St. Clare of Assisi Parish, St Joseph's Church 140 Broad St, Swedesboro, NJ. A mass of Christian Burial will be celebrated immediately following. Internment will be private at the request of the family.
In lieu of flowers, donations to the family would be appreciated
c/o Daley Life Celebration Studios
1518 Kings Hwy
Swedesboro, NJ 08085