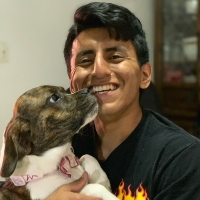 Maicon "Mike" Javier Veletanga Sandoval
Maicon "Mike" Javier Veletanga Sandoval
Maicon (Mike) Javier Veletanga Sandoval, died May 28. He was Born 7/1/2002 in Camden NJ and graduated from Kingsway High School 2021. He is survived by his mother, Gloria Sandoval Avila, his father, Manuel Veletanga Tuba, and siblings, Abigail Sandoval, Eduardo Veletanga Sandoval, Marco Veletanga Sandoval, Franklin Sandoval Avila, Alfredo Veletanga Ramon, Richard Veletanga Mejía, Johanna Veletanga, Claribel Veletanga, and Edwin Veletanga.
Mike was a man in action. He was a great soccer player and on the track team. He previously worked at Vesuvios, Amazon and 5 below and was currently working at NVR in Delanco.
Some celebrate 19 great years Saturday 11 a.m. to 1 p.m. at Daley Life Celebration Studio, Swedesboro. Mass of Christian Burial will be celebrated at 1:45 p.m. at St. Clare of Assisi Parish, St. Joseph Church, Swedesboro.