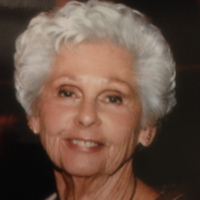 Lura Marie Conner
Lura Marie Conner
LURA MARIE CONNER (nee BUTLER)
As the first frost of the season descended upon the earth, and with the harvest of a fruitful life filled with accomplishment and joy, our beloved matriarch drew her last breath peacefully just weeks shy of her 86th birthday.  After a long and arduous struggle with dementia, she became an angel of the Lord on November 9th and was reunited with her parents Frank and Beatrice Butler along with her beloved husband of 53 years, Edwin, as they now all rest in eternal peace and glory together.  Words are inadequate to describe the depth of our loss or how deeply she will be missed.  Her outgoing personality rendered her unforgettable.
Lura was born on November 25, 1933 and raised on the family farm in Mullica Hill, NJ where that work ethic was instilled in her at an early age.  While working at the local drugstore soda fountain, she met a dashing gentleman 5 years her senior, who unable to consume one more milkshake, asked for her hand in marriage. Lura and Ed were married October 3, 1952 and welcomed their only child, Carol, in 1955.
Upon graduation from Swedesboro High School in 1952, Lura matriculated at Goldey-Beacom College where she learned foundational skills in business which paved the way for a distinguished 43 year career in banking which began with a position in the bookkeeping department at Swedesboro Trust Company. She quickly progressed up the corporate ladder which, although unusual in a male dominated industry at that time, Lura stood out for her standard of excellence, skills, drive, dependability, organization, and incredible work ethic. Over the years she opened three bank branch offices, serving as a manager and Vice President at a number of banks in South Jersey and retired as manager of business development for Woodstown National Bank. In spite of her busy schedule, she furthered her education by completing courses at the American Institute of Banking, Gloucester County College, Dale Carnegie, and Rutgers University.  She was the first female appointed in Gloucester County's 295 year history to serve as the county treasurer.  Additionally, she taught courses at AIB and served for 25 years as the tax collector for Swedesboro. Lura was honored as Woman in Finance by the Business and Professional Woman's Club of Gloucester County for her achievements and held memberships in numerous professional organizations.
Despite working full time, Lura was able to balance her professional and family life as she always found the time to be involved in her daughter's myriad activities. She served as a Girl Scout leader, youth church choir director, Sunday school teacher, and was present for every piano lesson and recital. She was also known to be a very vocal cheerleader at swim meets.  She was passionate about being outdoors and in addition to tending many animals on the farm she had a pet crow, raised a raccoon from infancy, and enjoyed riding her favorite horse named Sun.  Among her many avocations she loved water skiing, fishing, boating, swimming, and snow skiing.  She was an avid walker whose farm girl stride was near impossible to keep up with. Lura was musically talented and played the accordion, piano, and organ. She and her husband enjoyed travel together often and following his death she fulfilled her dream of going on an African safari.  The Jersey shore was her happy place where she hosted family gatherings for over 50 years.  Retirement was enjoyed in both Ocean City, NJ and Palm Beach Gardens, FL.
Socializing with friends, she was the hostess extraordinaire and was a pillar of impeccable taste and character. Her beauty, grace, and poise were of another era. Lura was always bursting with pride at her grandson's achievements and was always involved in their lives. Tireless in her endeavors and her love for her family, her legacy is the example she set about what matters most in life.
In addition to her daughter, those left behind to mourn her loss, cherish her memory, and carry on her legacy by living fully in her place are her son-in-law, David Restrepo, grandsons Dr. Ryan Restrepo CDR USN (Melissa) and Randy Restrepo (Lauren), and great grandchildren Conner, Camryn, and Ella. Additionally she is survived by her brother Lance Butler, Sr. (Eleanor).  Lura was the epitome of elegance, energy and fashion flair.  As she walks the fashion runway in Heaven, we are quite sure that she would be most delighted if you would consider purchasing a new outfit and wear it in her honor.  Otherwise, in lieu of flowers, donations would be gratefully appreciated in her memory to either the United Methodist Communities (3311 State Route 73 Neptune, NJ 07753) or Serenity Hospice (56 Georgetown Road Bordentown, NJ 08505).  There are not enough words to adequately describe the caring and compassionate caretakers who provided care over these past six years and who especially in her final days eased the burden of suffering during her challenging journey.  May all of the dedicated "Team Lura" caretakers continue to be blessed in their capacity to heal and comfort others in whose care they have been entrusted.
Relatives and friends are invited to greet the family at Bethesda United Methodist Church, 1433 Kings Highway in Swedesboro, NJ on Wednesday, November 20th with a visitation starting at 10:30am and a service to follow at 11:30am in the sanctuary.  Arrangements by Daley Life Celebration Studio.