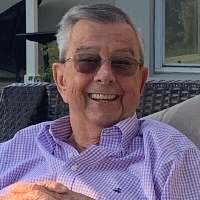 Louis A. Veronica
Louis A. Veronica
Louis A Veronica
November 9, 1940 – April 26, 2023
Louis A. Veronica passed away in his home surrounded by his 4 daughters on Wednesday, April 26th. He joins his wife Madeline, who preceded him in death this past March.
Louis was born on November 9, 1940, in New York City. He was the son of Arthur Veronica and Josephine Martoccia. He graduated from Merchantville High School and attended Rutgers Camden School of Law. He was married to Madeline for 57 years and raised a beautiful family of four girls in Haddonfield NJ.
Lou was always quick to help, listen and laugh. He was a caring, devoted husband, loving father and mentor to many. He left behind many friends, colleagues, and family; but he will be missed most by his devoted daughters; Michelle, Dana (Aaron Bobrove), Jennifer Reeves (Brian), Rebecca (Mark Meadowcroft) and grandchildren; Aiden, Lillian, and Megyn Reeves.
Services will be held at Church of St. Andrew the Apostle, 27 Kresson-Gibbsboro Road, Gibbsboro NJ 08026 on Tuesday, May 2nd. Family will receive friends beginning at 9:15 with Catholic Mass to immediately follow at 11 am
For those unable to attend in person, the Mass will be livestreamed www.churchofsaintandrews.org
In lieu of flowers, donations can be made to:
Sacred Heart School Sponsorship Program
1739 Ferry Avenue, Camden NJ 08104