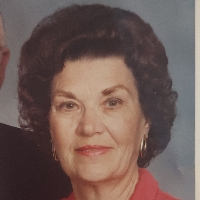 Lorraine Twiss
Lorraine Twiss
Lila Lorraine Cooksey Twiss passed away peacefully in the presence of family at Friends Village in Woodstown, NJ, on March 13, 2023. Lorraine was born in Omega, Georgia, October 24, 1927. She grew up in South Georgia and moved to Swedesboro in 1944 to join her sisters, Lucille and Burma. She graduated from Swedesboro High School in 1945 and then went to work for Altman's 5 & 10 Cent Store. She worked for Hunter Oil Company as a bookkeeper in the late 1940's until the early 1950's. In 1958 she went to work for Del Monte Foods and retired in 1983 after 25 years of service in Quality Control. She was a long time member of Bethesda United Methodist Church in Swedesboro and was also very active in the JEMS (Jesus Ever My Savior) Sunday School class. She was a member of the Woodstown Woman's Club for many years. She also volunteered at King's Things Christian Thrift Store and Food Pantry in Swedesboro where she was manager for 12 years. She lived in Swedesboro until January 2015, when she moved to a lovely cottage at Friends Village in Woodstown. She lived there six years and then transitioned to Assisted Living.
Lorraine was predeceased by her beloved husband of 59 years, Robert L. Twiss, a life-long resident of Swedesboro. She was also preceded in death by her parents, Jessie Will Shippey Cooksey and Fred Duncan Cooksey, her siblings, Meta Lucille Cooksey Hatcher, Nadine Cooksey Rogers, Burma Cooksey Gaunt, Charlie Burke Cooksey, Fred Duncan Cooksey, Jr., her niece Glenda Rogers Williams, and her brothers-in-law Harold S Twiss, Jr. and Wilbur Twiss.
Lorraine is survived by her nieces Jane Rogers Crawley of Waycross, GA, Karen Marie Cooksey of San Diego, CA, and nephew Dr. James H. Rogers, Jr (Kathy) of Whidbey Island, WA. She is also survived by niece Patricia Twiss of Dover, DE and nephews , Harold Michael Twiss of Woolwich, NJ, Steven Twiss of Battleboro, VT and W. Lewis Twiss of Inverness, FL., and many great, and great-great nieces and nephews.
Lorraine's life will be celebrated Thursday, March 16, 2023 at 11:00 am (Viewing at 10:00) at Daley Life Celebration Studio, 1518 Kings Highway, Swedesboro. A private burial will follow at Lake Park Cemetery. In lieu of flowers, donations may be made in Lorraine's memory to Bethesda United Methodist Church, King's Things in Swedesboro, or a charity of your choice.